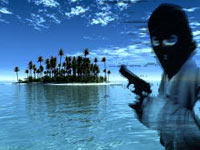 In a plea to the people of Nevis, in particular the youth, premier of Nevis and minister responsible for security in the Nevis Island Administration (NIA), Vance Amory, urged them to desist from criminal activity that, if allowed to continue, could threaten the island's stability and security.
Amory was at the time delivering a statement on local television on May 16, 2013, on the heels of the shooting death of a young man, Kishmoy Challenger, while he was at work early Monday morning.
"I speak to you at this time with a really, very heavy heart… It is not one of those things I am happy to report but I really want to appeal to all the people of Nevis that we cannot sustain this type of anti-social and criminal activity. Not only are we creating and causing hurt to the family of those who are injured or was killed in this case but the whole country suffers as a result of this type of illegal criminal violence…
"I want to appeal to all the people of Nevis, especially our young people, our young men that you desist from becoming involved in criminal activity, whether it be gang related or whether it be as an individual. This kind of behaviour, this criminal activity, is a threat to our stability and our security. It does no one any good. It in fact creates difficulty for all of us because our future depends on the stability and the peace and the security of our country," he said.
Amory frowned on a number of anti-social behaviours, which he said should not be tolerated and urged persons with any information on those crimes to report them to the authorities.