Chefs Preview Taste Techniques
June 24, 2013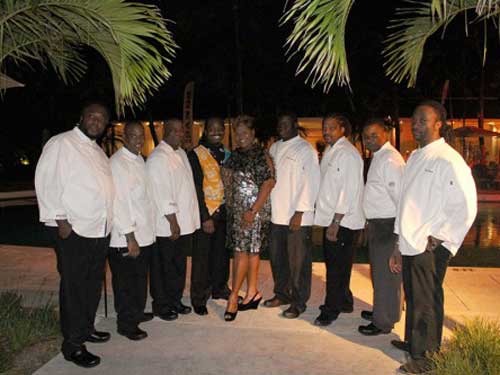 Chefs of the Bahamas Culinary Team laid out an eight-course meal for supporters at the One & Only Ocean Club, a demonstration ahead of their appearance at the Taste of the Caribbean in Miami from June 26 to 30.
The eight-member team will be competing with other Caribbean countries in several categories. In addition to team competitions, individual events include beef, pastry and seafood categories. The Bahamas will also contend for Bartender of the Year and Chef of the Year at the competition.
David Johnson, director general in the Ministry of Tourism, commended the team on their work and their continued demonstration of culinary excellence.
"We know that visitors continue to talk about how they discover Bahamian cuisine," he said. "In our surveys, we know that food in both our hotels and restaurants are rated very high in customer satisfaction with nearly half our visitors saying that our food, our cuisine and its service in its entirety far exceed their expectations. So let me say that we don't have any problems with the quality of our food like some other places."
Mr. Johnson said he is impressed with the fact that the culinary team is not satisfied with their present level of skill, although they are already displaying excellence. He said they are committed to getting better.
"That is what The Bahamas needs in every aspect of our tourism sector," Mr. Johnson said. "We have to get better because we can't afford not to win. That is the spirit I see here and that is the spirit I hope this team, this association, my ministry and in fact all stakeholders can take because on the strength of getting better, we will build a strong economy,"
The team consists of Ancilleno Solomon of Luciano's of Chicago, Emmanuel Gibson of One & Only Ocean Club, Charon McKenzie of Lyford Cay Club, Dwayne Sinclair of Lincoln Culinary Institute, personal chef Tracey Sweeting, Jamal Small of Dune Restaurant, Simeon Hall Jr. of Twisted Lime, private celebrity chef Ron Johnson and team manager Devin Johnson.
By The Ministry of Tourism