Gov't. In Talks With Baha Mar On Payout
June 5, 2013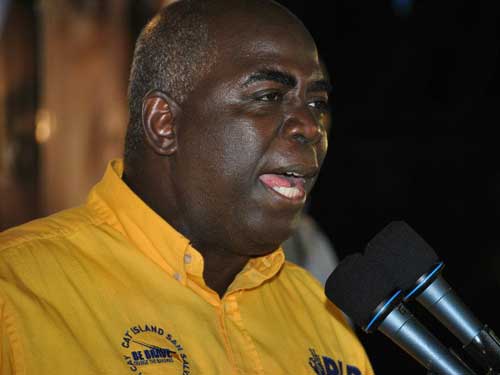 Deputy Prime Minister and Minister of Works Philip Davis said that his ministry is in negotiations with Baha Mar officials to determine the "just" payment the government owes the developer for road construction associated with the project.
However, Davis shied away from saying if that figure will be significantly less than the nearly $50 million initially expected.
Davis said the government was obligated to pay $45 million plus $2.8 million to Baha Mar if the cost of the reconfiguration of West Bay Street exceeded $70 million.
"If it was less than that, the government would only pay 50 percent," he explained before heading into Cabinet. "We have undertaken an assessment of the expenses and the cost for the construction of those roads and we are now going to settle and determine what that is to make what we believe to be our fair portion of the cost for that diversion, and connected road to Gladstone Road."
Davis said that assessment entails Baha Mar identifying what it believes to be the true cost for the construction.
"We are examining it, my technical team, to determine whether those costs are properly attributed to the works that we have obligated ourselves to pay for. It is anticipated that we will pay what is our just share and we will discharge our obligation."
Davis said both sides are close to concluding negations, which should wrap up this month.
The Nassau Guardian revealed yesterday that the government has determined it should pay Baha Mar less than $30 million.
The government had the road valuated and has now concluded that its portion of the investment should be around $29 million, according to government sources.
The revelation regarding what the government is considering paying seemed to have come as a surprise to Baha Mar's Vice President of Administration and External Affairs Robert 'Sandy' Sands.
On Monday, Sands told The Nassau Guardian that Baha Mar was not aware that the figure had been reduced.
"That $29 million has not been communicated to us," he said when contacted for comment. Sands said as far as he knows the government still intends to pay the $45 million in full.
He said the government has already started making payments, although he did not say what contributions were made to date.
Sands said the roads and infrastructure work are worth more than double the amount the government initially agreed to pay.
"We have submitted all of our accounts to the government," he said.
"The cost to the government is much more than what we are claiming from the government, but it's just the proportional rate that is due. Baha Mar expended close to $118 million on all of those roads."
Sands added that Baha Mar is still expecting full payment from the government.
By Taneka Thompson
Guardian Staff Reporter