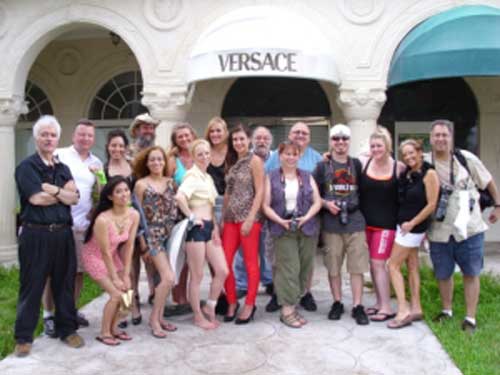 Professional photographer and owner of Positive Negatives Professional Photography David Blecman and a group of 27 professionals have decided to use the island of Grand Bahama and the International Bazaar as a source of artistic inspiration.
The group of photographers, models and makeup artists take a bi-annual cruise to the Caribbean each year in an effort to hone their craft, explore the natural beauty, unique terrain and culture found within the islands.
Blecman revealed, "Our models, photographers and makeup artists come from all over the world including Egypt, Ireland, Sweden, London, Mexico and across the United States.
"Twice a year we all take a cruise to the Caribbean in an effort to work with each other, practice our craft, enhance our technical skills by learning about better lighting, posing and makeup application all while enjoying the true beauty which lies within the Caribbean countries we visit.
"Essentially a photographer alone could not afford to bring all theses models and makeup artists together and neither could the same be done by the models or makeup artists, so I assemble everyone together and we will take a cruise to countries within the Caribbean and conduct a photo shoot for three to four days during our visit."
The group known as the Positive Negatives originally came to Grand Bahama in October of last year visiting the International Bazaar, which apparently they all fell in love with and hence, decided to return for another grand photo shoot.
Most of the Positive Negatives have engaged in this work/cruise practice for the past eight years, others for four years while Blecman has done so for the past 15 years and notes each trip a new person or group of persons are added to the group's roster.
Blecman stated The Bahamas has been one of the group's most favorite destinations to conduct this time of work, fun and fellowship.
"We came to Grand Bahama in October and fell in love with the International Bazaar and decided immediately to return in fact, when we got back home we went right ahead and booked our cruise so we would be here at this time," said Blecman.
Despite intervals of downpour the Positive Negatives said they were enjoying every moment of the photo shoot and were able to get some really great work done.
Revealing the Positive Negatives have visited New Providence on several occasions and have developed a great rapport with Bahamas Film Commissioner Craig Woods, Blecman said nothing compares to Grand Bahama and the group is grateful for the time they have spent here.
Blecman said he is also grateful to Woods for his kindness and his assistance during the course of the visits he and the Positive Negatives have had within The Bahamas over the years, noting that due to heavy rain in Nassau on Tuesday the group had to shoot in the rain, Wednesday they were unable to leave the ship to shoot on Great Sturrup Cay so they held the photo shoot on the ship and Grand Bahama proved to be the most favorable for them as they were able to shoot in some pretty clear weather on island yesterday even though their were some wet moments.
"We all love shooting here in The Bahamas and Mr. Woods has been really wonderful, a great help to us and we cannot wait to return and explore other islands within the archipelago," said Blecman.
The Positive Negatives and Blecman will return to their respective countries and states including California, New York, Philadelphia and Florida and note they eager await the second phase of their bi-annual work/cruise photo shoot.
By The Freeport News