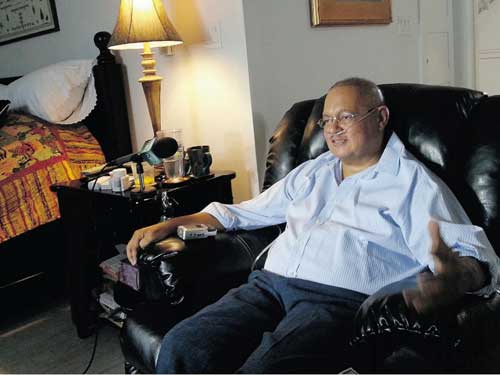 Jailed in a "medieval-like" Panamanian prison for less than a week, Arthur Porter has clandestinely acquired a BlackBerry to communicate with the outside world – in an institution where cellphones are banned – and is already known as a "powerful" man by his fellow prisoners, an inmate says.
The networking skills that Porter used to advance his career to stellar heights in Canada – before he was arrested on fraud and money-laundering charges in Panama City on May 27 – appear to be serving him well at La Joya, one of Central America's most notorious jails.
Those with enough money like Porter, 57, can buy a drink called distilado, a moonshine. Despite Porter's self-diagnosed Stage 4 lung cancer that has spread to his liver, he has been seen drinking distilado, along with another alcoholic beverage, chicha, made from "leftover" pineapple juice.
For the first few days, Porter had no choice but to lie on the hard floor of his cell in Pavilion No. 6, reserved for foreign prisoners that include "kidnappers" and "assassins," but on Monday he was close to obtaining a bed for himself, said the inmate, a Canadian drug-trafficker.
The inmate emailed a cellphone photo of Porter that he had taken. It shows the former CEO of the McGill University Health Centre standing in a shower room in blue Bermuda shorts with his fellow prisoners.
On Monday, Porter was allowed to go for a walk in what prisoners called the patio. He has also been in cellphone contact with his wife, Pamela Mattock Porter, who was arrested with him and is now in a women's prison. Both are fighting extradition to Canada on charges that they were part of an alleged conspiracy to defraud the McGill University Health Centre of $22.5 million arising from the super-hospital contract.
La Joya, Spanish for "jewel," is a complex of 14 pavilions with more than 7,000 inmates, although some observers put the figure as high as 11,000. Pavilion 6, in which Porter is incarcerated, was built to house 218 inmates, but nearly 500 are packed inside.
Alexis Munoz, Panama's deputy director of the Bureau of Judicial Investigation, estimated in a Globe and Mail interview that Porter's pavilion contains about 400 foreign inmates.
Some prisoners have taken surreptitious videos of the unsanitary, squalid conditions of La Joya and uploaded them onto YouTube.
The prison is infested with cockroaches and rats, but "we have about 15 friendly cats that help us kill the rats," the inmate said in a series of detailed emails sent to The Montreal Gazette since Sunday.
The inmate, who longs to be reunited with his family in Canada after a year at La Joya, noted that the prison has no clean running water. Prisoners have rigged pipes up to the metal corrugated roof to collect rainwater during the rainy season. Medical attention is also nonexistent, he adds.
"We have about 20 people with diabetes, cancer and eye problems and there is no help at all," the inmate said. "I have already seen two people die from heart disease. … There is no ambulance or hospital around."
The inmate described Porter as a "friendly guy," but said his facial expression was sometimes "sad." He's seen him with an "oxygen tank," but Porter hasn't been breathing through it.
By Aaron Derfel
Postmedia News