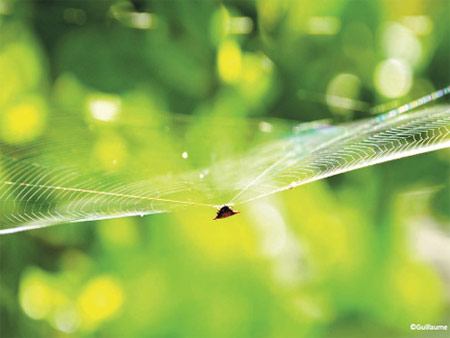 Bahamian Master documentary/fine art/photographic artist Guillaume (Margaret) is finalizing plans for an exhibition of her photographs entitled "Dancing in the Light: A Symphony of Nature Revealed in My Yard" that were created 2008-2014. The Exhibition will open on Tuesday, 3 June from 6pm – 9pm at Doongalik Studios, #20 Village Road.
Guillaume is a veteran News Photographer and her work has appeared in newspapers and magazines in The Bahamas and internationally. As a news photographer, she has photographed Rosa Parks, Queen Elizabeth II, Prince Philip, Princess Anne, Governors, the Mayor of New York, and covered boxing in Madison Square Garden. Throughout the years, Guillaume has documented decades of Bahamian scenes and lifestyles with her camera. During February and March 2011, she took on a dangerous task of shooting documentary photographs along John F. Kennedy Drive, Prospect Ridge roads and towards the airport terminal before the road works began.
Guillaume's forte is black and white film photography which she has studied extensively and has mastered the art of making fine black and white prints. However with this upcoming Exhibition. "Dancing in the Light" will be her first colour exhibition and it was decided upon only after she was convinced by reports from a respected research company, Wilhelm Imaging, which confirmed that photographs printed on certain papers using special pigmented inks would guarantee a life span of more than one hundred years.
This archival quality guarantee is of utmost importance for Guillaume as a professional artist who is adamant in her response to the needs of her prospective buyers. She is meticulous in overseeing the printing process for her images which are printed on 100% rag acid-free photo paper, using Epson Ultra chrome pigmented based inks. They will also be matted with 100% rag acid-free matte and backing and framed with 99% UV Museum Glass and perhaps is the first to exhibit with this type of glass and printed in limited editions of one hundred and fifty prints each. A certificate of authenticity by the printing paper manufacture will be given with each print.
This is also her first exhibition showcasing images created by using the digital medium.  Guillaume applies the same basic operation of the traditional film camera and is rewarded with excellent exposed colour and un-tweeted breathtaking images in their "purest" form, untouched and not digitally enhanced by 'photoshop'.
The subject matter for the exhibition was discovered during early morning walks in her yard beginning in the early fall of 2008. Guillaume states, "The spider and the spider web was one of my very first shots using a 200mm lens shooting into the light of the spider and the web, thereby creating an effect as though it was dancing in the light. I was amazed when I saw the images, not just of ordinary flowers but also different species of birds. The natural sunlight illuminated the subjects, displaying the radiance of their colours. Photography is an art which can be described as 'drawing with light'. My ordinary vision was set aside and a new vision of seeing has emerged with a new perspective and with a greater appreciation for the light."
"The images in the yard that I had documented had been right there under my eyes for ages and I had never thought of documenting (shooting) them before. Finally I had forty to fifty exciting, colourful and breathtaking images from my yard and I am delighted to be mounting this exhibition so that that I could share them with the public. I would like viewers including the youths to take away from the show an awareness of the extraordinary beauty that exists within ordinary images which we take for granted."
"In 2007, the late Petrine E. Archer Straw, author/ lecturer and former consultant at the National Art Gallery of The Bahamas wrote to me in an e-mail, 'From experience, I know that periods of introspection can also represent times of creativity and high productivity, I suspect you must be doing a lot of good work and wish you well'." Guillaume reflected: "I am saddened that Ms Archer Straw never got a chance to see any of the photographs in this exhibition because I am convinced that they are surely my most creative pieces to date."
Guillaume is a former art instructor at the College of The Bahamas and former Founding member of the Board of Directors at the National Art Gallery of The Bahamas. Guillaume is also a collector of vintage film cameras and will have a selection of her vintage cameras on display. The Exhibition will close on Monday, 29 June and is open to the public Monday-Wednesday from 10am-4pm or by appointment. For further information, please contact the Gallery at doongalikart@batelnet.bs or 394-1886
Doongalik Studios
Photo caption: Image by Guillaume which was the catalyst for her upcoming Exhibition