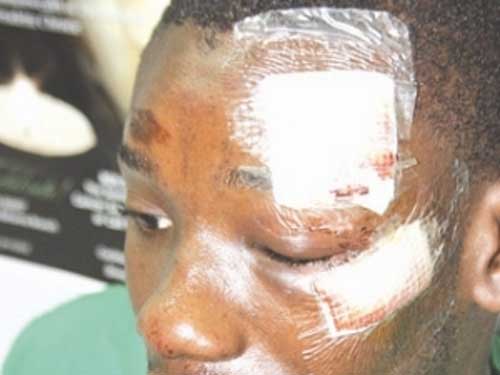 Christopher Simms is alleging he was beaten, bruised and bludgeoned by an off-duty cop at the Smith's Point Fish Fry several weeks ago, while he was out with friends.
The incident, the 20-year-old revealed, stemmed from an argument he and the officer had via the social networking site Twitter, when Simms allegedly responded to an open 'tweet' which suggested that since becoming a member of the Royal Bahamas Police Force, the officer behaves as though he has extreme power and abuses his authority.
Simms said he replied to the tweet by suggesting that the officer does not have any more power than that of other officers who have sworn to uphold the laws of The Bahamas and protect and serve the innocent, as his job requires him to.
According to Simms, the officer allegedly threatened to slap him, on sight, whenever he has a chance to confront him face-to-face.
"I responded to this telling him I was not afraid of him and should he slap me I would slap him back and that was the end of the argument between he and I, at least that's what I thought at the time," Simms said.
The 20-year-old, who is also a part time model, said he closed out his conversations on Twitter with his friends, informing them he would be headed out to Smith's Point to enjoy himself at the fish fry there and he could not wait to hang out with them.
Simms said, hours later he and a group of friends were sitting at a picnic bench when he was struck in the head from behind.
Initially, he said, he paid no attention to the blow as he honestly thought it was one of his friends being "rough and silly;" however, when he spun around he came face-to-face with the officer from the Twitter episode who allegedly said to him, "Call the police now, I am the police," and a fight
ensued.
"I struck him back and he and I began tumbling around in a fist fight," Simms remembered.
"He then managed to body slam me on the bench and my face received most of the damage from that. He then threw me to the ground, got on top of me and began punching me in the face and about my body."
Simms said, he did gain control at some point.
"Somehow I managed to flip him over and I then began punching him back, but he caught me with a blow to the face and I lost the upper hand and he body slammed me a few more times and as he did this he kept repeating, "Call the police now, I am the police."
"Finally some of his colleagues said to him to let me go and they helped him get to his car and speed off while I was lying on the ground," alleged Simms.
Simms said a friend of his helped him to his feet and carried him to the Gerald Bartlett Police Headquarters where he filed a complaint with the Complaints and Corruption Division.
"I was not a criminal who assaulted an officer of the law, I was not in police custody for committing any infraction and neither was he in uniform at the time he decided to beat on me like he did," he said.
Simms said the officer had just graduated from the Police College less than a year ago and his actions demonstrate he is not fit to be an officer.
"His actions were criminal and for his colleagues to standby and do nothing shows they too are not fit to wear the uniform of a Royal Bahamas Police Force officer," said Simms.
"He greatly abused his authority without due cause and I feel he should be made to suffer the consequences. I still have faith in the police who have sworn to serve and protect the people of The Bahamas as not all of them are corrupt like (the officer), but I do urge those who recruit these officers to evaluate them more carefully."
Simms also charged that too many young officers have joined the force for the wrong reasons and are causing more harm than good and as a result police officers are painted in the wrong light.
"I feel he should lose his badge and be put behind bars for what he has done to me … had it been a regular individual or someone else who attacked him like he did me they would have be locked up immediately," he said.
"I have suffered serious injuries, had to have stitches and this should not ever have happened. I hope my story getting out will help others who have suffered this type of violence by an officer and it would cause other officers to conduct themselves in the right way and refrain from abusing their authority."
The Freeport News did contact Assistant Commissioner of Police for Grand Bahama Emrick Seymour, who confirmed that the matter was under investigation.
By Sharell Lockhart
Freeport News Reporter