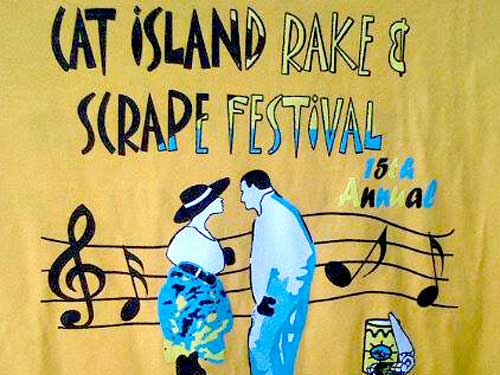 Cat Island, the rake-n-scrape capital of the world, will be hosting its 15th Annual Cat Island Rake-N-Scrape Festival from June 6th-8th, 2013 in Arthur's Town, Cat Island.
The festival will include contemporary and traditional Rake-N-Scrape artists and traditional dance. There will be a Battle of the Bands featuring live performances from top Cat Island bands like the Lassie Doh Boys, Ophie and The Websites, BoHog and The Rooters. Ira Storr and the Spank Band will be the house band along with KB, Wilford Solomon, Colyn McDonald, Jitana, Lady Show and Veronica Bishop.
Preliminaries for the junior and senior Battle of the Bands competitions will take place on Friday 7th of June and finales on the 8th of June. The Gerald Cash Primary School Rake-N-Scrape Band will be performing and competing.
The Cat Island Rake-N-Scrape Festival promises to be the best ever, so come join the celebration.