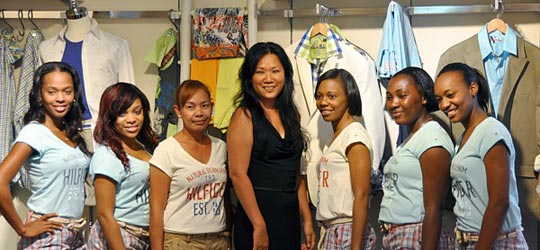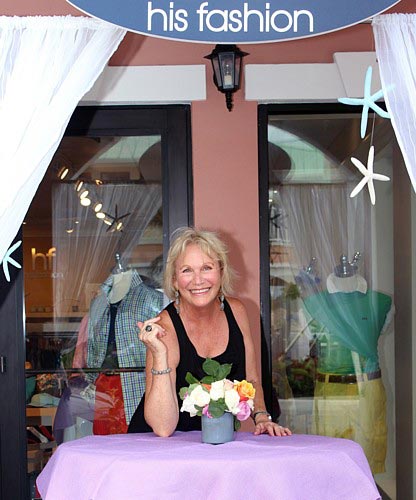 His Fashion featured a new and unique collection of men's casual wear selected from the latest European and North American designer collections by fashionista and business owner, Elizabeth Covington. Recently they showcased these fashions at a memorable, fun and lively party at His Fashion at the Old Fort Bay Town Centre.
His Fashion is unique in The Bahamas because of its clothing and accessory collections. Elizabeth Covington and her experienced team select their latest collections from Polo/Ralph Lauren, Faconnable, Tommy Hilfiger, Calvin Klein, Robert Graham, Kenneth Cole and Nautica, featuring only the most recent and stylish hits for her boutique.  His Fashion is located at the Old Fort Bay Town Centre, which is anchored by the Solomon's Fresh Market west.
"With this collection in particular, I've noticed an increased response from men who are learning that casual dressing isn't, and needn't be, only jeans or shorts and tennis," said owner Elizabeth Covington.
"This season the colours, styles and many clothing options we have available, have really struck a chord with those who like to look sharp and also with men who come in wanting to know how to look smarter in casual clothes. They are enjoying the fact that everything is here in one place, they can get entirely accessorized, mixed and matched outfits that are prêt a porter."
As guests browsed the store, snapping up their Father's Day gifts, and mingled on the patio to music from DJ Frank and clinking glasses, the His Fashion signature Pomegranate Martini was proving an overwhelming success. Game prizes were won from next door neighbours, Dermalogica and Bahamas Design Centre West, people danced to the up tempo music and small bites were served by popular nearby eatery, Chives.
Etienne Christen of His Fashion announced that anyone making a purchase through Father's Day on June 16th would be entered to win one of two prizes, either a case of luxurious 24 President Graycliff cigars or a weekend at Compass Point for two. Revved-up car engines from Omega Motors (Bahamas) and dance music got everyone's attention as a top-down Mini Cooper convertible and a BMW coupe cruised past, spilling over with handsome His Fashion dressed models!
Leaving behind the cars, and looking as if they had stepped from a magazine, the models staged a new kind of fashion display, socializing as they spun and posed for photographs from an adoring audience.
"Who knew I could wear pink," said top personal trainer turned model for the evening, Larry, looking very modern and manly and highlighting the clothes' versatile solid, bright and pastel colour combinations of the His Fashion collection.
His Fashion scores on many points said Etienne Christen, one of the buyers for the boutique. "We cater to a premium and diverse audience, a shopper who travels and is exposed to other cultures and who is, for the most part, sensitive to his 'look.'  While men's wear shops in The Bahamas offer a variety of clothes and accessories, we are finding that fashionable shoppers are identifying or even finding themselves and their personal style here with the cutting edge outfits at His Fashion. We're really aiming to push Bahamian fashion to the next level."
He said that we started the business because shoppers were expressing that they were having trouble finding fashions that were modern and truly spoke to them.
"Men admit to having trouble finding a complete outfit that reflects who they are whilst portraying a modern and connected man, but with a classic and timeless sense of style. The brands we feature exemplify that. Bahamians are tired of the 'same ole'. We are also gaining traction with a younger generation as more men are looking to break away from the tired baggy jeans and T-shirt look."
The hypnotic thud of a distant drum signalled the arrival of the Valley Boys and they appeared in full costumed glory – twenty-strong and dazzling bright, loud and confident in their melodic march, bells and whistles piercing the twilight, drums primed and humming.  Valley Boys, Valley Boys chorused the crowd as temperatures rose and heart beats quickened in excitement, pulses in rhythmic tandem.  A fitting rush of excitement to end an evening of glamour, fashion and flair with His Fashion at the Old Fort Bay Town Centre.
Serena Williams PR