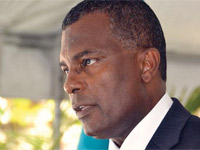 With another group of Miami-based Cubans preparing to protest against The Bahamas' treatment of Cuban detainees, Minister of Tourism Obie Wilchcombe yesterday expressed concern over the perception that "propaganda" will send to people visiting the country.
According to the Miami Herald, a group of Cubans living in Miami has planned a series of protests beginning on Friday.
This time their audience will reportedly be tourists aboard cruise ships destined for Nassau.
According to the report, the Cubans plan to position about a dozen vessels in waters near the Miami Port so they will be visible to passengers when ships leave the port.
The vessels will reportedly display large signs with messages such as "Bahamas be beautiful again" and "respect the human rights of the undocumented migrants".
While dismissing allegations that Cubans are mistreated while detained at the Carmichael Road Detention Centre, Wilchcombe acknowledged that the protest could send the wrong message to visitors.
"If a message gets out that The Bahamas is mean to human beings and to Cubans, or any citizen of the world, then…the perception of The Bahamas is going to be destroyed," Wilchcombe said.
"And don't forget perception is reality and reality is usually obscure. We can't allow for the perception to be created about The Bahamas. So we have to fight back."
This is the latest protest Cubans have planned following the release of a video purporting to show Cuban detainees at the Carmichael Road Detention Centre being beaten by Bahamian officers.
The video, which was released last month and aired by South Florida Spanish language station America Noticia 5, sparked outrage among Cubans in Florida.