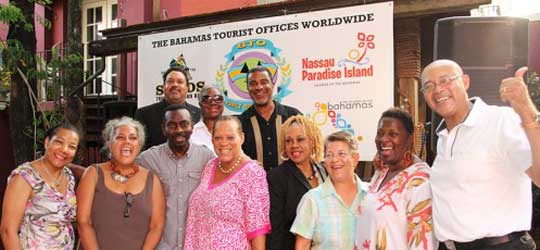 Bahamas Tourist Office (BTO) employees and former employees were praised for their work, which built and sustained a thriving tourism economy for The Bahamas.
BTO employees and former staff members from throughout the world met in Nassau over the weekend for their first BTO Family Reunion. The Bahamas
Tourist Offices opened in cities in North America and Europe in the 1960s and were staffed with Bahamians in the 1970s. The staff advanced tourism, aggressively taking The Bahamas' messages to consumers and travel industry professionals.
Sir Baltron Bethel, the first Director General of Tourism, told the gathering that their service had greatly benefited the country.
"You were on the scene in The Bahamas at the greatest period in our history, when not only did we go through change and come around to self determination but we also laid some foundations that will always endure for the good and the benefit of the Commonwealth of The Bahamas," he told more than 100 individuals attending a gala reception.
Sir Baltron said it was a privilege for him to have known and worked with three previous directors of Tourism – Som Chib, Basil Atkinson and Dan Wallace. He also worked with the three Directors General of Tourism who came after him – Vincent Vanderpool-Wallace, Vernice Walkine and David Johnson.
"They were the head honchos but you were the people who really made it happen," he said. "You made it happen because you were in the trenches. So tonight, as we come together on this occasion, I want to say thank you. You are a wonderful team."
The overseas staff of the Ministry of Tourism made vital contributions, and demonstrated the versatile talent of Bahamians at a critical time, he said.
"We made a firm determination back then that we were going to build a strong Bahamian team, not the exclusion of non-Bahamians, but that leadership had to be in the hands of Bahamians," he continued. "You have proven. You were the first lot of Bahamians engaged in the number one industry to prove that Bahamians can take tourism from top to bottom, to run it and to run it successfully."
Sir Baltron said the team is appreciated for what they did and what they continue to do. Bahamas Tourist Offices remain open in Toronto, London and Plantation, Florida.
By The Ministry of Tourism