West Nassau Rotary Inducts New Member
July 29, 2013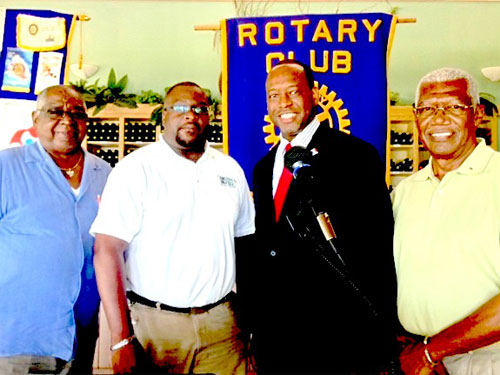 On Thursday, July 25th, The Rotary Club of West Nassau inducted its newest member, Valdez C. Ferguson.  He was sponsored by Rotarian PP Bismark Coakley.
Photo shows from left to right: PP A. Bismark Coakley, Valdez C. Ferguson, AG Stan Charlton  & President Carleton S. Blair
Valdez Ferguson is  a Technical Manager with expertise in Television Production and Programming. In the past 15 years, he has worked in the Media industry.  He was first introduced to the industry through the Technical Cadet Programme during his senior years of high school.  Upon graduating from high school, he was employed at the Broadcasting Corporation of the Bahamas where he acquired a deeper appreciation of the field.  He then decided to go off to become a qualified professional at the Art Institute of Fort Lauderdale, where he graduated in 1999 with an Associate of Science Degree in Video Production.
Valdez returned to the BCB following graduation and in February 2003, he joined the team at Cable 12 as their first Cameraman.  Since then, he has gained extensive experience and skills in Television Production.  He also has been afforded the opportunity to create and work on projects locally, such as NB12 News, My Five Cents, The Year End Review, The Tradegy at Sea, and numerous other events througout the Commonwealth of the Bahamas.  His expertise has not been limited to just here in the Bahamas, but he has also worked at Caricom Heads of Government, Haiti/Bahamas Talks.
When not working, Valdez assists with personal charitable projects arranged by his family.  He enjoys travelling, boating, grilling and assisting with community focused events.  Valdez attends St. George's Anglican Church and is a member of the church's ACM.  He is the only son of the late Cynthia Ferguson and Calvin Ferguson.
Rotary Club of West Nassau