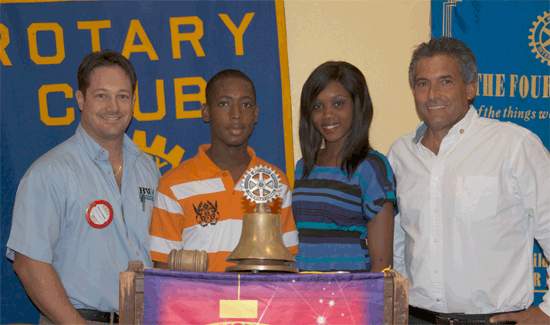 On May 8th, 2012, past president and founding member of the Rotary Club of Grand Bahama Sunrise, Jonathan Gouthro was killed in a hit and run while crossing the street in South Florida.
Jonathan was also a member of the Freeport Club before us and the Pompano Club at the time of his death. After his death, through Rotary, his family & friends, a fund was started in his name with the goal of handing out scholarships to students hoping to further their studies in the field of accounting and business. In order to accomplish this on a continuous basis we needed to start an annual fundraiser.
Again, with assistance from his family, we hosted the first annual Jonathan Gouthro Golf Tournament in aid of the scholarship fund. 100% of the profits went to this scholarship fund. The tournament took place May 4th, 2014 at the signature course of the Grand Lucayan Hotel, the Reef Course.
The event was deemed a success with participants from Florida, New Providence and Grand Bahama. The next tournament will be held in January, again with 100% of the profits going to the scholarship fund.
A board of trustees was formed under the Rotary umbrella in order to oversee how the fund is managed. It is comprised of Rotarians and advised by the Gouthro family. This month the trustees decided to start the scholarship process. A few applicants applied and two were selected to receive partial scholarships. Mr Isaac Missick still has a few choices of universities, but he will be leaving next semester and he will be studying finance / accounting. Ms Simehia Williams is currently enrolled in her second year at the College of the Bahamas. (pictured) Both scholarship recipients visited the Sunrise Rotary Club to express their gratitude and to give a little more detail of their future educational plans.
The goal is to have another successful fundraiser and next year give out a few more scholarships and then again the following year, continuing the process until one day the fund will be self-sustaining. We hope the legacy of such a great Rotarian, friend, son, brother, Bahamian whose life was cut short will live on through this scholarship and change other people's lives in the process, as he did to those who knew him.