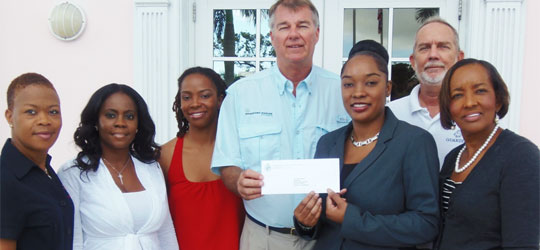 Freeport, Grand Bahama –  The Grand Bahama Port Authority, Limited (GBPA) is pleased to lend its corporate support to the upcoming Valentine Rotary Ball to be held on Saturday February 15th.
After a 4 year sabbatical, Grand Bahama Rotary is reintroducing its signature event, the Rotary Ball, which is a collaborative effort between the Rotary Clubs on Grand Bahama Island.
As plans are finalized, Administrator of GBPA's Donations Committee, Dr. Telina Smith, was pleased to make a donation to Mr. Mike Stafford, Chairman, Rotary Ball Committee.
"We are truly cognizant of the worthwhile work that Rotary does on behalf the citizenry of our island.  Therefore, it is our pleasure to assist with this major fundraising event as you embark on your altruistic efforts in the coming year," she stated.
Under the theme, 'Valentine 2014 – Rotary Has Heart', this year's ball will be held at the Grand Lucayan ballroom.  Net proceeds from the fundraiser will assist the respective Rotary Clubs with their signature projects on Grand Bahama Island.
The Grand Bahama Port Authority, Limited