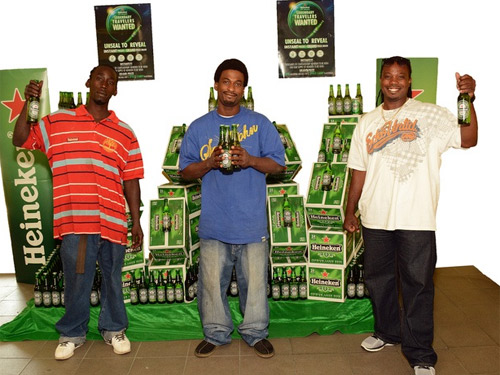 Cheers, Heineken for One Year.
Those are the words read by three lucky winners as they unsealed to reveal the message under their bottle caps in Heineken's 'The Voyage' promotion. The winners – Sean St. Louis, Shavargo Forbes and Julian Seymour – stepped forward to claim a year's supply of free beer compliments of Heineken.
"I was the lucky one," said St. Louis, who was socializing with friends and family when he discovered he was a winner. "I couldn't believe it when I read it. I had to rest the cap down, take a sip of my Heineken and look again just to ensure that I wasn't imagining it."
Julian Seymour discovered his good fortune while enjoying a cold Heineken with a friend. "I looked under the cap not really expecting to win anything and, to my surprise, I saw, 'Cheers, Heineken For One Year'. I immediately started thinking about what a good year this would be!"
"Anything can happen and this competition is proof," said Forbes, excited about his winnings. Asked how he planned to consume 52 cases of Heineken in as many weeks, he responded: "I'll find a way."
'The Voyage' under-the-cap campaign, part of Heineken's global promotional campaign celebrating the premium brand's 140th anniversary, will run from June 21 to August 21 and features a number of instant prizes for local participants, including individual Heineken bottles , a $15 Prepaid Card and free Heineken for a year (52 cases).
The campaign also includes a Grand Prize drawing with the top prize of a five-night trip to space camp in Amsterdam, The Netherlands inclusive of travel and accommodations and a $10,000 Pre-Paid Card and 10 cases of Heineken.  Ten mini-prizes will also be drawn with winners receiving a free trip to their choice of Miami, Atlanta or New York with flights, hotel accommodations and car rentals (with the exception of New York). Entrants are required to officially submit six "Grand Prize Draw" bottle caps at any of the weekly mini prize drawing events.  The first mini prize drawing events will take place at the Cricket Club grounds in Nassau and at DNR Sports Pub in Abaco on July 19th beginning at 4pm and at Playaz Lounge in Freeport on July 26th where winners of the mini prize will be selected.
"We're very excited," says Heineken brand manager Janay Pyfrom. "We're only three weeks into the promotion and we've already had three winners. Heineken is a premium drinking experience and we wanted to offer our drinkers premium prizes that really reflect the Heineken experience. We're looking forward to a lot more excitement as more and more winners step forward to claim their prizes. We can't wait to see who the grand prize winner will be."
In coming weeks, Commonwealth Brewery, the brewer of Heineken in The Bahamas and plans to transform a few local bars into popular foreign cities for region-themed happy hour events in keeping with 'The Voyage' theme of encouraging Heineken drinkers to travel the world and push boundaries.
For more information on 'The Voyage' campaign and its eligibility and entrance requirements, interested members of the public may contact Commonwealth Brewery or any local Burns House or Butler and Sands location.
By Diane Phillips & Associates
CAPTION – "Cheers, Free Beer For A Year" – Three young men were recent winners  of Heineken's 'The Voyage' promotion when they walked away with a free year's supply of the global beer after they  popped a bottle cap and read the words "Cheers, Free Beer for a Year!" From L – R: Sean St. Louis, Shavargo Forbes and  Julian Seymour. (Photo by Charles John.)