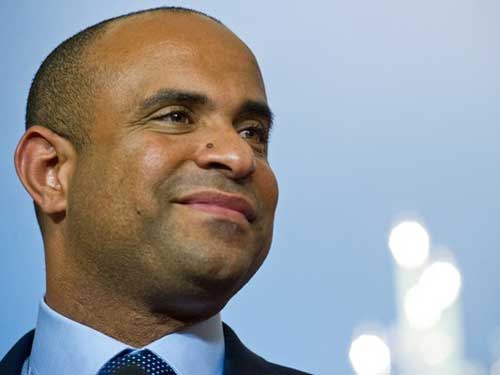 Haiti's prime minister said that more than 60 people, including government functionaries, have been indicted or jailed on corruption charges, as the Caribbean country's anti-corruption unit and customs authorities deploy new means to fight fraud and contraband.
Laurent Lamothe said his government will continue to crackdown on those who chose to make corruption a way of living, while announcing that more means have been provided to the anti-corruption unit and the anti-contraband brigades to enable them to track wrongdoers more effectively.
"Sixty-three people, including ten already detained, have been indicted on public funds embezzlement charges and several other corrupt individuals will be prosecuted," Lamothe told HCNN on Tuesday.
Many of those facing prosecution have allegedly misappropriated funds destined to support a tuition-free education program that so far allowed more than 1 million kids to have access to primary education free of charge.
"President (Michel) Martelly and I have given clear instructions and we've asked relevant authorities to apply zero tolerance when it comes to cracking down on corruption and contraband," Lamothe explained.
The Haitian prime minister said the fight against corruption and contraband is crucial for the country's development process, because the government needs resources to fund projects that matter to the needy population.
However, several opposition groups and other critics have accused government's highest authorities of being involved with corruption, accusations the government has repeatedly rejected.
"It is easy to flow accusations without minimum evidence and for political reasons, but it is clear that the facts are telling the contrary," Lamothe argued.
"People in Haiti have never seen so many people being prosecuted for corruption. More than two dozen additional cases regarding state functionaries suspected of corrupt practices have been submitted to the prosecutor for further proceedings," Lamothe stated.
The government has provided anti-corruption and anti-contraband agents with more financial and logistical means to facilitate operations on the field.
Eighteen anti-contraband brigades, deployed in different parts of the country, will reach 36 by October, officials say.
"I am not saying that our efforts will eradicate corruption in Haiti," Lamothe admitted.
"But from now on we need everyone to understand that corruption has become a risky enterprise, which was not the case before this government took office," he warned.
"We have declared a war against corruption and we won't retreat before winning this war," Lamothe emphasised.
By: Joe Colas
Caribbean News Now!