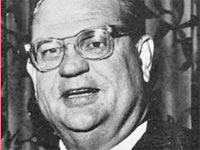 On January 20, 1967, the Progressive Liberal Party inherited a nation that financially was in good shape.
Sir Stafford Sands, whether you liked him or not, whether you agreed with him or not, whether you appreciated him or not, you have to agree that his genius was managing the country and there is no dispute, he managed The Bahamas and he did a good job.
He left The Bahamas with overemployment as many persons had two jobs and occasionally a third.
He was the consummate salesman and sold The Bahamas' culture profitably all across Europe as he sent King Eric and His Knights, Ronnie Butler, 'Peanuts' Taylor, Richie Delamore, Freddie Munnings and others to serenade and promote The Bahamas.
He understood that that investment was not wasted.
He seemed to understand the three playgrounds of the tourist:
Places to dance and listen to native music; places to eat and enjoy the native dishes, and the big boys' theater, the golf course.
He left scores of night clubs in place all over the capital, Grand Bahama and the Family Islands. Grand Bahama had the International Bazaar and Nassau had the Straw Market, etc.
There were seven golf courses on Grand Bahama, five on New Providence, two on Eleuthera and one each on Abaco and Great Harbour Cay, a total of 16 or two for every 100,000 overnight visitors, truly the magic number.
Every leader and every minister of tourism was ignorant to these facts.
The country has paid a drastic price for this ignorance. A doubling of golf courses would bring comfortably 1.6 to 1.8 million visitors.
A half dozen more and easily the country could be seeing more than two million and an increase in GDP of $1.4 billion directly and another $0.7 billion indirectly.
Ironically in The Nassau Guardian of July 1, 2013, there is a story speaking to the elusiveness of the economic empowerment of Bahamians.
Again the leaders can only plead ignorance of procedure, or is there one ready to plead otherwise?
No matter how loud the leaders proclaim their belief in the people they wish to lead, as soon as they are in office the music changes and the people's 'inability' to chart their own destiny becomes the unspoken topic.
As part of the populace these actions speak to the lack of belief in themselves of getting the job done.
M.E. Lockhart