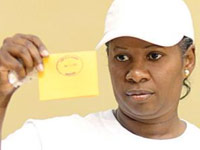 The Bahamas Union of Teachers (BUT) threatened that when schools open across the country in September it would withdraw its labor from two of them if the principals are not removed.
BUT President Belinda Wilson called on the government to intervene.
She said Minister of Education Jerome Fitzgerald has been placed on notice. Wilson said one school is located on New Providence and the other is on Grand Bahama.
"We are concerned about the academic direction of the schools.
"We are also concerned about the hostile environment at the schools, and the teachers for the most part do not feel that they are supported by these two administrators.
"We believe that the schools can move forward much more quickly and in a positive way if both of those administrators are removed from both of those schools."
Fitzgerald said he will not name the schools either that the union has issues with.
He acknowledged Wilson's concerns on the matter.
Asked whether he is concerned about possible industrial action, Fitzgerald said, "If the president of the union says that, of course we have to take it seriously which is why I have acknowledged. We will see what happens."