Adrian Gibson Takes a Look at Tourism
September 25, 2013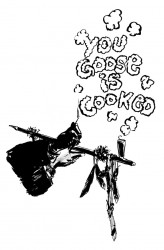 Gone are the days when promotional packages featuring the sun, sand and the sea would attract visitors in droves and sustain the high standard of living that Bahamians have become accustomed to.
These days, every rock—from Mexico to Tahiti—can boast of sun, sand and sea, but they also recognise that the sustainability and profitability of their tourism industry can only continue if they provide quality service, reasonable prices and a wide variety of tourist-related activities. Local tour operators and visitors have complained about the lack of meaningful activities, other than the beach or the casinos, that's available to tourists.
Much more attention should be given to developing the heritage tourism sector, highlighting the country's historic and cultural attractions. Even more, greater appreciation must be had for Bahamian music, dance, art and craft!
Although 80 per cent of all visitors to the Bahamas come from the US, a few years ago a Ministry of Tourism official claimed that of all the countries that a major UK tour operator (First Choice) sends visitors, the Bahamas consistently ranks near the bottom for (European) visitor satisfaction.
What's with the knockoff store that, I'm told, sells counterfeit designer bags and other items, and is situated in the corner across the street from the new straw market?
Whilst tourism is the backbone of our economy and accounts for 90 per cent of our nation's revenue, downtown Nassau and the Prince George Wharf are squalid sites, in need of urgent transformation. The unkempt, grubby sidewalks and storefronts make downtown Bay Street a loathsome monstrosity that can hardly qualify as a tourist attraction.
The tourism product—our number one industry—stands to be updated, improved and polished, particularly as it relates to service and attitude. While the "norm" is thought to be acceptable, it is unusual to get "wow service" anywhere. When one does get "wow service", it is often in places where you're paying for it—far too often, service is pedestrian and mediocre. I wonder how it's possible for us to seek to maintain our status as a premier destination in the Western Hemisphere while allowing our touristic product to deteriorate. Clearly, when one looks at the state of our monuments and attractions, they are disappointingly bland and oftentimes dirty.
Cardiovascular surgeon Dr Duane Sands told me: "I had an opportunity to drive through along the course of the surrey, and as you turn from Bay Street, there's graffiti on the buildings that the surreys turn down. I was embarrassed to know that tourists seeking to see sites of Nassau must see, along a significant part of the route, constant eyesores. It makes you ask the question is anyone paying any attention? This is one of the signature attractions in Nassau and they don't vary the route, so they could at least ensure that that's attractive!"
At the Water Tower, the elevator has been inoperable for some time. There appears to be an inability to reinvigorate so many of our frequently visited historical sites so that they could be appealing to both locals and visitors alike. Frankly, one approach is to upgrade these facilities and properly manage them so that they could pay for themselves.
Why have we not moved all of the taxi cabs off Bay Street and installed parking meters? How difficult is that, particularly when we consider the fact that we're looking for added revenue and are hoping to increase pedestrian traffic in the downtown area? Year in and year out, consecutive governments have repeatedly talked about revamping Bay Street, but they have all failed to seriously act on it.
When will we move the vagrants and loiterers off Bay Street? When will we acknowledge that it's no longer "cute" to be approached by someone requesting a dollar or to be approached by someone soliciting the sale of contraband?
Balancing the rights of Bahamians to access the premier thoroughfare of this country with the privilege of Bahamians and visitors to enjoy that area requires a delicate equipoise, but it is a balance that must be managed and not left to chance.
As it stands, anywhere east of Rawson Square—on Bay Street—is seedy, dirty and almost devoid of any visual attraction. Notwithstanding the significant improvements in the heart of Rawson Square over the last three to four years, there's much to be done and the goal should be to restore Bay Street to the preferred happening place of Nassau. As of September 2013, it is a place to be avoided like the plague.
We have lamented the change in visitor demographics over the years, where there's been a gradual transition from predominantly stopover visitors to cruise visitors. Yet, whilst it would seem prudent to make the experience of cruise ship visitors so unbelievably mind-blowing that they would all leave intending to return for more (as stopover visitors), they are instead being treated to a rather hackneyed touristic experience and a Downtown that is more rapidly resembling New Kingston than New York!
As a tourist destination, if we are serious and wish to stem the haemorrhage of our most precious economic asset, we would begin with an urgent facelift of Bay Street. We can no longer afford the interminable debate and the special interests that are destroying the lifeblood of our country—whether they be shop owners, transportation operators, street vendors or school students. Bay Street is a faded memory and the studies that have been done to revitalize Downtown should be brought to the front burner—as a matter of urgency—because, unless tourists are coming off those cruise ships or stepping out of those airplanes, there will be no foreseeable improvement in our economy for the next two to three years. Frankly, one way to start the revitalization would be to have the Prime Minister speak directly to all Bahamians and to invite, urge and implore us all, as a matter of national interest, to step up our collective game in a sustained fashion. Much like Jamaica, people are starting to see the Bahamas as an all-inclusive enclave, one where they can simply stay in a resort and enjoy the amenities, sun, sand and sea without leaving the site until they have to return to the airport.
Further, the relatively minor ways in which we could improve the tourist product involves the improvement of services at restaurants, dropping the mandatory 15 per cent gratuity (so that workers can earn it), ensuring that sales persons in tourist areas are trained to give quality service (expanding the Bahama Host programme) and consistently cleaning public restrooms.
High prices, poor attitudes and dreadful service, a lack of attractions and the upsurge in violent crime, among other factors, have all put a damper on the Bahamas' number one industry.
By ADRIAN GIBSON