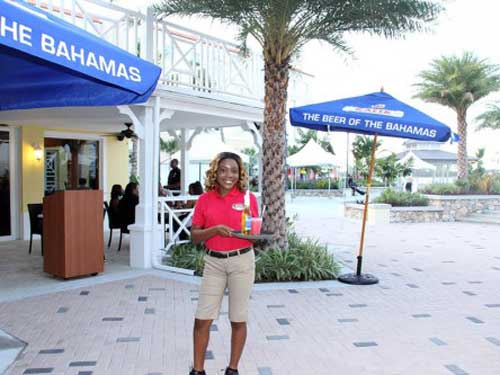 Conch N' Kalik, managed by Cacique-Award winning chef Devon Johnson, is the newest restaurant to open in downtown Nassau.
The restaurant and sports bar celebrated with a soft opening event recently at its Pompey Square location. As the restaurant opens, Chef Johnson, the general manager and managing chef, said operators are already considering expanding to as many as four other locations. The original location is a high-pedestrian traffic location, he said.
"Pompey Square is downtown Bay Street and this is one of the busiest tourist areas I have ever seen," Chef Johnson said. "Since I have been down here for the last five months, I have seen cruise ships come in and I have seen at least 4,000 persons pass through this square any given day."
As a chef working in hotels, Chef Johnson opened several restaurants. As a standalone entity, apart from a hotel, Conch N' Kalik offered a unique opening experience, he said.
"With hotels, you have to deal with different brands but with this, I created my own brand," Chef Johnson said.
The new restaurant's menu sticks close to its name. It offers a variety of specialty conch dishes as well as Kalik-infused items.
Chef Johnson developed the menu concept and used his food and beverage background to provide training for the restaurant's 32 staff members. He anticipated that the number of employees would grow as the business grows.
Sous chef Eunesha Solomon is among the staff members making an impact on the business. She brings her eight years of experience to the job, the second restaurant at which she worked with Chef Johnson.
"I followed him here," she said. "So he took me in. He nurtured me. He showed me exactly what to do. It's been a pleasure working with him."
Chef Solomon said there are many opportunities for chefs in The Bahamas. Once individuals have a passion for their work, they could enjoy a long-term career at hotels or specialty restaurants, he said.
Source: Ministry of Tourism