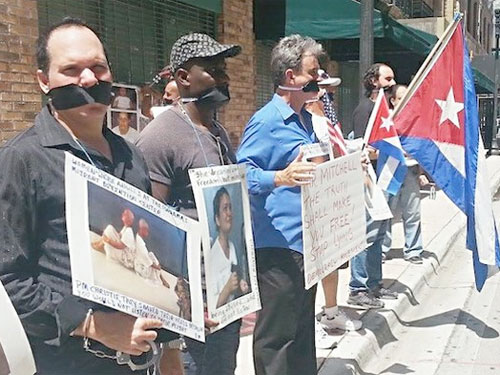 Democracy Movement president Ramon Sanchez says he suspects Bahamian government officials are going to great lengths to silence Cuban detainees. The Bahamian government rejected an offer by the Honduran government to take 10 Cubans currently at the Carmichael Road Detention Centre.
A Tribune article reported: Mr Sanchez insisted that those Cubans still being detained have been witnesses to abuse and would contribute to a transparent investigation into alleged beatings at the Centre.
"The Bahamas has said," Mr Sanchez explained, "that they would not release the remainder of the detainees to Honduras.
"Given the fact that there is a country that wants to take them, I can only say that the Bahamas' desire to repatriate is wanting to censor them.
Additionally, in response to recent statements made by Tourism Minister Obie Wilchcombe, Mr Sanchez urged the Bahamian government officials to discontinue the combative tone they and engage his group in dialogue.
Mr. Wilchcombe comments had been that Bahamians should stage their own protests against Mr. Sanchez's group's crusade to tarnish the country's reputation.
"We would like to engage in a dialogue with the government. On the other hand,  if they don't want to do that all they need to do is produce the report and to begin the process to remove the guards from any facility that they are working at.
"I read the statements by the Minister of Tourism. He is conducting himself very aggressively and it will not deter us from advocating for human rights."
Source: The Tribune