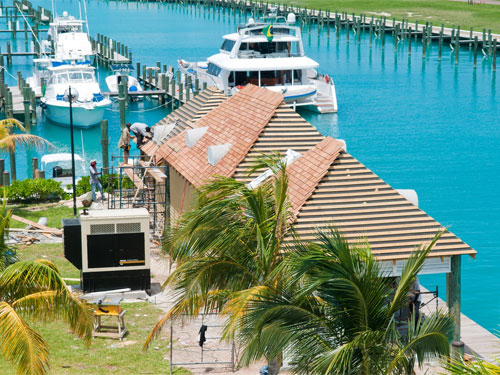 The sound of trucks in the early morning tells the story. Oversized orange coolers dot the landscape. Everywhere, men are putting on hard hats, turning to, getting ready for another day's work, but this construction site is different from many others in Nassau,
"It's the three B's of construction work," says one contractor who is among nearly a dozen at the $200 million development of Palm Cay. "It's beachfront, it's breezy and best of all, it's so many Bahamian teams. It's great working here."
If the contractor is boasting about the job and location, it's just one of the reasons the 69-acre beachfront community on New Providence's southeast coast is booming.
"We keep stressing that we are not building a project, we are building a community and I think the contractors who are part of the team get it. They know they're helping to create the Palm Cay community," said Zachary 'Zack' Bonczek, Director of Sales & Marketing. "If the sights and sounds of hammers, drills and saws are signs of construction success, the other story of success lies in the growth that we are experiencing. Every single week we see more interest from people who want to be part of the Palm Cay lifestyle."
That lifestyle and a practical price point are helping to drive sales at the community's latest offering, The Anchorage. Introduced as the community's first condominium complex in July, 10 of the first 12 two-bedroom, two bath residences have already been reserved. Those reservations will be converted to sales for qualified buyers in late September during a one-day event that will culminate in the awarding of contracts with construction slated to start immediately following the signings. Three floor plans with one and two-storey options are available in the $319,000-$329,000 range pre-construction.
"I think people can see how much activity there is and they know that this is a community that is coming alive before their very eyes," said Bonczek, walking as he talks. "Look, two tennis courts are nearly done. New boats are coming in to the marina every day. The playground is under construction. The harbour master's office and marina complex will be finished soon. Every aspect is on time or ahead of schedule."
Palm Cay has also plumped up its social calendar. Friday evening happy hours are drawing a sizeable crowd with close to 80 guests and Saturday lunches catered by Chives at Palm Cay along with family activities and water sports from kayaking to beach volleyball are quickly becoming the most popular feature of the week.
"Where else can you bring the family to swim, eat a great lunch, do yoga or get a massage on the beach, decide to take the boat out for a little fishing and return to clean and grill your catch in one afternoon at a residence with these amenities and this kind of beauty?" says Bonczek. "It's like living in a resort, but it's a real place. I may be a little partial, but it seems like a no brainer to me and when you see all the construction, you know it's real. This is a community rising."
Located along New Providence's southeastern shoreline, the 69-acre community is designed for some 300 residences with a combination of single family lots, townhomes, condos and marina cottages plus a 194-slip marina and 1,500 feet of oceanfront of which 1,200 feet are powder sandy beaches. It is a fully investor-funded project with a complete build-out plan by 2017. More than a dozen local firms are engaged.
Diane Phillips and Associates
Photos: Donald Knowles
Caption: Construction is booming at Palm Cay, the 69-acre beachfront community development on Nassau's southeastern shore. The Anchorage, introduced in July as the first condominium offering in the complex, is nearly sold out with reservations 11 of the 12 residences in Phase I reserved pre-construction, as finishing touches are applied to 2-storey townhomes on Starfish Isle.