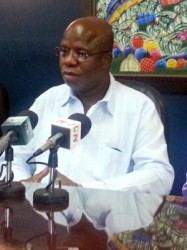 The Executives of the Democratic National Alliance have announced that Andrew Wilson has been elected as the Interim Chairman of the struggling political party.
This makes the party even more irrelevant that it was under the chairmanship of Mark Humes, who resigned several weeks ago.
There were four persons who put themselves forward as Interim Chairman. The executives of the party interviewed the four persons individually and on September 2, 2013 the executives voted on the position of Interim Chairman.  Andrew Wilson was elected.
Mr Wilson has accomplished very little in his life, save for the purchase of John S. George, a once successful company that he ran into the ground due to his naivety in the real business world.
Wilson is related to the corruption-accused George Wilson, who went to jail in the United States for financial crimes.   George was later released from jail on an appeal, allegedly because the corrupt PLP government of The Bahamas refused t0 send the necessary supportive documentation to the U.S courts, making it impossible for prosecutors to win the appeal.
It is rumoured that the money little brother Andrew received, to buy his way into the Bahamian business world, may have come from the dirty money he received from his brother.
Ironically, the DNA says they are, "devoted to upholding, protecting and deepening the democratic Rule of Law in society by promoting openness and accountability in governmental affairs, social justice and equality and the right of people to self governance and authority in determining their own destiny."
If that were true, they would never be involved with the likes of Andrew Wilson.