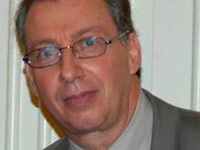 Bahamas Hotel and Tourism Association President Stuart Bowe has announced that Frank Comito, its Executive Vice President for the past ten years, will be stepping down effective January 30th, 2014 to pursue other opportunities.
"BHTA is appreciative of the years of service which Frank has provided to our organization and the industry.  He has brought to the table a high level of dedication and skills which have served the organization well" according to President Bowe.
Commenting on his time with the organization Comito said, 'During my tenure with BHTA I've been fortunate to work with a dedicated and knowledgeable group of Presidents, Directors, public and private sector leaders, and volunteers.  I've learned much from them and have been impressed over the years by their willingness to contribute time and resources to making our industry and our nation a better place.
While I will miss many aspects of my work, I will be leaving confident both in the stewardship of BHTA's volunteer leadership and the skills and commitment of our staff and that of our sister organizations – the Promotion Boards and the Bahamas Hotel Employers Association."
President Bowe indicated that the organization has formed a Search Committee and will seek to fill the vacancy over the coming months to allow sufficient time for a smooth transition.
The Bahamas Hotel and Tourism Association