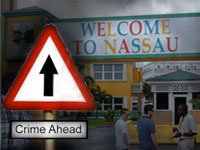 Almost four months ago the major cruise lines informed the Bahamas government that they were going to be issuing warnings to their cruise passengers regarding the extreme crime levels on New Providence.
Terry Thornton, Carnival Cruise Lines' senior vice-president, said that a draft of the intended warning had been presented to a Bahamian cabinet minister during a meeting of Florida-Caribbean Cruise Association (FCCA) members in May 2013.
"The Bahamian government was made aware in advance that cruise lines were planning to warn their guests," Mr Thornton wrote in a letter to the editor.
"At a Florida-Caribbean Cruise Association security operations committee meeting in May 2013, a minister from the Bahamian government was present and read the draft message one of the major cruise lines intended to communicate to its guests.
"Executives of several other cruise lines, including Carnival Cruise Lines, attending that meeting confirmed to the minister that we were considering doing the same.
"Carnival Cruise Lines began providing cautionary information to our guests in late May. Over the past few months, other cruise lines calling at Nassau also have issued similar information to their guests."
"The criminal threat level for New Providence was rated as critical by the Department of State. The security message continues to be provided by the US Embassy in Nassau"
"At Carnival Cruise Lines, the safety and security of our guests is our highest priority, and we recognised our responsibility to raise our guests' awareness of the need for caution while visiting the island."
In a foolish attempt to twist the focus off of the crime levels, Senator John Bostwick questioned whether the cruise lines were attempting to steer more people to Blackbeard's Cay. Mr. Thornton wrote in response:
"With respect to Blackbeard's Cay, which is marketed by the current owners under the name Balmoral, the project is not being developed by Carnival Cruise Lines and none of our employees work there," he wrote.
"Furthermore, at the end of all shore excursions to Balmoral, guests are dropped at the end of Bay Street near the Straw market to encourage shopping at local businesses."
"Our ships bring millions of guests and crew to Nassau and Freeport every year to shop and dine, and enjoy the many attractions of the Bahamas.
"The Bahamas is an important partner to Carnival and we look forward to continuing to grow that valued relationship in the future," Mr. Thornton wrote, acknowledging the mutually beneficial relationship between Carnival and The Bahamas.