Teachers Protest Over Rat-Infested Schools
September 13, 2013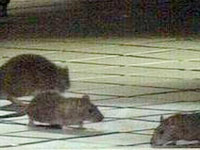 Teachers at Uriah McPhee and Stephen Dillet Primary Schools staged sit-ins on Wednesday, much to the dismay of some parents who had to collect their children early.
It is the latest move by the Bahamas Union of Teachers (BUT) to bring resolution to several health concerns at those schools, namely, mold and rodent and termite infestation, according to BUT President Belinda Wilson.
"The rats and the rodents have infested the school (Stephen Dillet) and there is feces and urine," Wilson said outside the Department of Labour. "As you walk into the school the stench greets you. Both schools have termites and mold.
"To compound that problem they went in and painted some parts of the interior of the school on Tuesday."
Wilson said the union couldn't subject teachers and students to work in classrooms with those concerns present, especially when paint fumes cannot be properly ventilated out of many classrooms.
Education Minister Jerome Fitzgerald admitted the rat infestation and ventilation have been a challenge.