3rd Bahamas Speed Week Revival Sees More Local Entries
October 22, 2013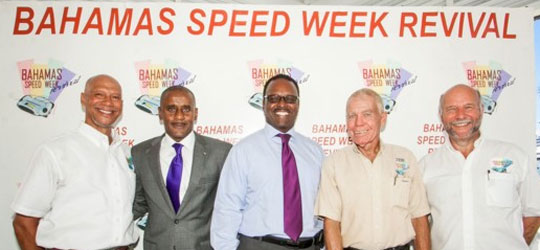 A record number of local drivers and the world's number one award-winning historic Ferrari will highlight the third running of Bahamas Speed Week Revival, the event that fast tracks heritage and sports tourism.
Announcement of the series of events set for December 4th through 8th was made at a press conference at Pompey Square this morning.
On hand was Minister of Tourism Obie Wilchcombe who called the convergence of drivers, cars, local and foreign fans "an annual rite that is becoming an iconic, must-do event in the Caribbean.
"For the past two years, Bahamas Speed Week Revival has successfully and significantly strengthened the nation's offering for visitors to our shores," the Minister said. "To this end, the Bahamas Ministry of Tourism has agreed to fully support the organisers of this event and we extend our financial and promotional commitment to the planners of Bahamas Speed Week Revival. This year, the event will be held under the distinguished patronage of the Governor-General of The Commonwealth of The Bahamas, His Excellency, Sir Arthur Foulkes. Drivers and teams will be headquartered at the renowned British Colonial Hilton – Number One Bay Street.
We extend our unreserved support and commitment with the full expectation that Bahamas Speed Week Revival will be a signature event for our country in years to come."
According to sources at the Ministry of Tourism, the past two Speed Week's coverage brought global recognition and exposure for the country with stories appearing in sports, lifestyle, retail and other publications as well as prompting extensive online coverage in the U.S., Canada, Europe and elsewhere.
Bahamas Speed Week Revival President Jimmie Lowe noted changes in this year's schedule, including a new race driver patron.
"We are really excited to announce that the 2013 race car driver patron of Bahamas Speed Week Revival will be one of the world's legendary drivers, Derek Bell, five-time winner of the 24-hour Le Mans. Few people have ever — or can ever — match Bell's record and his affinity for The Bahamas helps make him an even more valuable as the face of the event," said Lowe. "At the same time, we want to express our appreciation to Sir Stirling Moss who served as patron during the first two seasons of the revival tour of events. Sir Stirling holds a singular place in the hearts of Bahamians and we believe his presence and the way he reached out, interacted and met with Bahamians from every walk of life added so much meaning to bringing back the event he was so closely connected to. For many of us in a slightly older generation. his presence brought back memories. For others, it was like meeting the legend our parents had talked about, like seeing a hero in a book or movie come to life."
Reminiscent of the days when an event called Nassau Speed Weeks was staged, the revival series brings together historic race and classic cars to take to Nassau streets but instead of a race course, the sleek and slim powerful machines do sprints, time trials and four side-by-side contests. The event is headquartered at Arawak Cay with the backdrop of Nassau harbour and mega-cruise ships as its setting. Once again, entrants will participate in the 007 Island Tour zipping around New Providence (for the first time on new highways), a parade of power, under police escort, at speeds drawing students out of classes and camera-clicking fans out of homes, shops, banks and offices.
This year's field of entrants includes the largest number of local drivers.
"What's interesting about the local contingent," said co-founder and director David McLaughlin, "is how the local drivers are putting so much more into it each year, increasing the horsepower of their engines, upgrading. But what's really exciting is to see how the level of interest and enthusiasm is increasing."
One of the local entrants, Neils Jensen, has upped his Mustang horsepower, said McLaughlin, to a numbing nonchalance about fuel cost to 600 hp. Approximately one dozen local entries are expected to be among the 40+ the event will draw from the U.K., U.S. and elsewhere. "And that is one of the reasons that we are so pleased that the Ministry of Youth, Sports & Culture has stepped up its sponsorship this year. We are very grateful and we look forward to a close working relationship with both the Ministry of Tourism and with Youth, Sports & Culture as we plan for the future of this iconic event that combines the best of sports and heritage tourism."
But the car that is likely to be the most photographed will be a 1965 red Ferrari Dino, the same car driven by the famed Rodriguez Brothers in the early 1960s when the original races were held in Nassau on a track in Oakes Field. That car which today ranks as the number one decorated car from this year's competitions around the world will be driven by Andreas Mohringer.
Among the sponsors are the Ministry of Tourism, Ministry of Youth, Sports & Culture, Pictet Bank and Trust, Shell/Sun Oil, Oasis Chic Living, Senor Frogs, Youngs Champagne, Bahamas Waste Limited and Nassau Container Port.
And, as in the past two years, Pictet Bank and Trust will host the party with a cause. The 2012 Auction of Promises raised some $50,000 in donations for local charities.
For more information, bahamasspeedweek.com.
Diane Phillips & Associates
Caption: Bahamas Speed Week 2013 was officially announced by the Minister of Youth, Sports & Culture Dr. Danny Johnson; Jeff Rodgers, Marketing Manager at the Ministry of Tourism and the competition's executive team today. The series of events set for December 4th through 8th was made at a press conference at Pompey Square this morning. Pictured l-r: Brendan Foulkes, Bahamas Speed Week; Jeff Rodgers, Ministry of Tourism; Dr. Danny Johnson, Ministry of Youth, Sports & Culture; Jimmie Lowe, Bahamas Speed Week and David McLaughlin, Bahamas Speed Week.