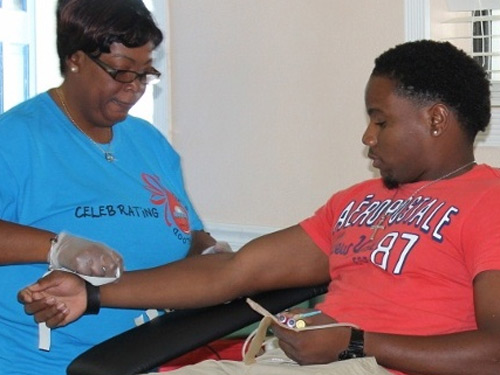 Blood Drives at Abaco's Cooper's Town Clinic and the Marsh Harbour Parish Hall on the pre-Halloween weekend garnered a large number of willing participants for a record total of 70 donated pints of blood for the Princess Margaret Hospital (PMH.)
The Bahamas Telecommunications Company (BTC) and a medical team from PMH saw a massive turn-out for their October weekend Blood Drive organized to help restore low levels at PMH. To encourage a healthy turnout BTC gave away phones, phone cards, tablets and refreshments.
The critical BTC Blood Drive followed seven on New Providence and two on Grand Bahama.  BTC is recognised as one of the Bahamas' most prolific supporters and instigators of public Blood Drives for the Princess Margaret Hospital. Ten iVolunteer Team Members from Abaco  joined BTC volunteers partnering with PMH medical staff for the initiative.
Andrew Hale Medical Technology PMH, said he thought that BTC's promotion of the event on local radio and across social media sites, encouraged the robust turnout.
"This is a record breaking Blood Drive," said Andrew Hale. "We usually average between twenty and fifty units, we are very grateful.   When someone needs blood in New Providence they often ask relatives in the Family Islands to donate so visiting the islands is a natural extension of for our Blood Drive programme."
Jerome Sawyer, Sr. Manager Public Relations, said BTC management and staff were well aware of the ongoing need for blood at the public hospital and they readily make up the volunteer support team on the various BTC blood drives.
"This year we decided to do three blood drives in the larger population centres.   In fact, we decided to come to Abaco after some BTC employees approached us about extending the effort there.  We have worked along-side health officials here in New Providence and in Abaco to ensure we bring the same level of efficiency executed in New Providence and Grand Bahama.
"The people of Abaco have always been eager to assist in charitable ventures; we saw this as another great opportunity for BTC to engage a Family Island community in a very worthy cause."
The Bahamas Telecommunications Company (BTC) is the leading telecoms operator in The Bahamas. BTC is jointly owned by Cable & Wireless Communications (51%) and the Government of The Bahamas (49%). Cable & Wireless Communications has both management and Board control.
Serena Williams… Media & Public Relations