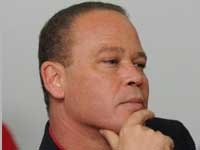 Carl Bethel has been appointed FNM Senator designate to replace Desmond Bannister, Free National Movement Leader Dr. Hubert Minnis announced.
Bethel will also serve as opposition leader of business in the Senate, said Minnis.
It is believed that the Free National Movement (FNM) was also considering Tommy Turnquest, Brensil Rolle, Alvin Smith or FNM Secretary General Michael Foulkes .
Bethel is a former MP, minister of education, attorney general and chairman of the party. Many members in the party were reportedly leaning toward Bethel. The post became available after Bannister, who was Leader of Opposition Business in the Senate, resigned last month.
In a letter addressed to Minnis, the former minister of education thanked Minnis for appointing him to serve in the Senate.
Bannister's resignation took effect September 30.
After resigning, Bannister urged party members to stop "undermining" the leadership of the FNM and come together to strengthen the party ahead of the next general election.
"The FNM under Dr. Minnis has the opportunity to be the government of The Bahamas in the next election, but the PLP is not necessarily the worst enemy of the FNM in that respect," Bannister said.
"The FNM has to pull together to be able to win an election." Bannister was the second FNM senator to resign since the FNM became the official opposition last year. Former Minister of State for Finance Zhivargo Laing resigned in late 2012.