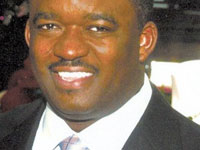 Former workers are bidding to jail City Markets principal, Mark Finlayson, because he and other trustees have allegedly failed to obey previous Supreme Court Orders to hand over funds to the defunct supermarket chain's employee pension fund.
A September 24, 2023, Supreme Court Order by Justice Hartman Longley grants permission for 10 former City Markets workers to apply for an Order that would send Mr Finlayson, and the other two trustees for the Bahamas Supermarkets Profit Sharing and Retirement Plan, to Fox Hill Prison.
They are claiming that the trio, who include Constance Rolle and Christine Turnquest, have committed "several alleged contempt" of Court by "failing or refusing" to pay funds due to the staff pension fund.
The documents, which have been obtained by Tribune Business, claim that the trio – as current or former pension plan trustees – breached Supreme Court Orders dating from December 5, 2012, and two subsequent ones on August 1 and August 22, 2013, which respectively extended the time for payment to be made.
The monies in question involve the proceeds generated from selling equipment in the former City Markets Cable Beach store, which the pension fund owned, to Rupert Roberts' Quality Supermarkets business, plus "proceeds raised from the sale and redemption of bonds" once held by the plan.