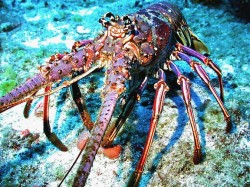 The Turks and Caicos Islands' Department for the Environment and Maritime Affairs has secured $65,000 in funding from the UK Foreign and Commonwealth Office for a study and project on spiny lobsters in TCI waters.
The initiative will look at ways to improve the habitat for spiny lobsters, which have seen catch numbers fall over the past five years, it is believed, due to the reduction in the "quality and quantity of lobster habitat," the government said.
That's in part been caused by damage from hurricanes Hannah and Ike in 2008.
"This project represents an excellent opportunity for us to try and improve spiny lobster habitat in TCI waters," said Director of DEMA, Kathleen Wood. "Numerous studies have indicated that artificial habitats increase the abundance and biomass of lobsters in areas where habitat is limited, and we are hopeful that we will see such results here. We are grateful to the FCO for funding the work."
The project will last for up to a year, with another three years of monitoring of the habitats' progress.