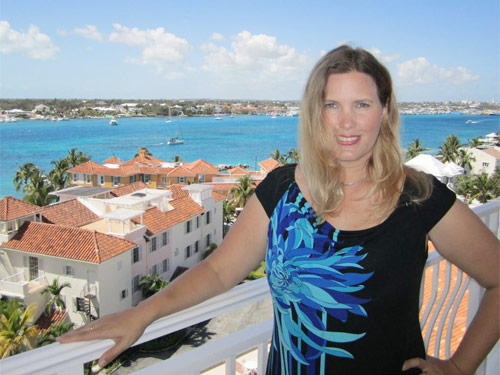 Ten-year veteran broker Chandra Parker's faith in Paradise Island is being doubly rewarded.
In a competitive and at times turbulent industry, the top-performing agent who for a decade has remained steadfast in her belief that the iconic island across the bridge from Nassau offers unique value, has racked up millions in Paradise Island sales and leases. Now she is on a path to making this one of her best years ever.
But achieving her personal best, she says, is just part of the reward for believing so strongly in the ongoing value of Paradise Island.
This week, she will leave the well-established firm where she has been for several years to join MCR, Mario Carey Realty, the agency whose identity is synonymous with luxury Paradise Island property.
"Even in a roller coaster economy, property values on Paradise Island remained relatively stable, and in some cases, appreciated," said Carey. "To have another seasoned professional who believes so strongly in — and has so much experience —  in P.I. sales and leases join our team will complement our commitment to our clients on Paradise Island."
Carey recently marked his own Paradise Island milestone, surpassing 100 transactions in Ocean Club Estates since lots first went on sale in 1999. Now the P.I. super salesman who sold the first three lots in Ocean Club Estates says Parker's expertise in the mid- to high-end rental market will drive even more interest to the island.
"The demand for Paradise Island continues to be unwavering which makes it great for income-producing properties," said Parker, part of a well-known real estate family. "It's the first place banks and financial services people advise their incoming staff, whether executives or management, to look at. They encourage it because they know with the beaches, golf, the security, all the amenities of the resorts at their fingertips, they and their families will enjoy living in The Bahamas. Paradise Island is not just a gated community where there is little to do once you are behind the gates. Entering the gates  opens up a range of experiences that cannot be matched elsewhere in this part of the world."
Young, active and ambitious, Parker's expertise is expected to bolster Mario Carey Realty's already strong portfolio of luxurious and exclusive property specialists.  She is also a Director of the Bahamas Real Estate Association and Chairman of the Bahamas Multiple Listing Service.
Parker said that the Bahamas is still a buyer's market, but the tide is beginning to change as the world watches the 2008 financial crisis grow increasingly distant in the rear-view mirror.
Mario Carey Realty, headquartered on East Bay Street, handles sales, leasing, appraisals, and has divisions in relocation, property management and vacation rentals. Its multi-lingual and multi-skilled staff of 29 speak four languages, including English, Spanish, German, Portuguese and Mandarin. Its new website reflects the international nature of its client base, with information and listings available in several languages.
Diane Phillips & Associates
Caption: PARADISE ISLAND SPECIALIST MOVES TO MARIO CAREY REALTY — BREA Director and veteran real estate broker Chandra Parker who has racked up millions of dollars in transactions on Paradise Island properties is moving to Mario Carey Realty, the firm whose name is synonymous with luxury property on the iconic island. Paradise Island, she says, is one of the few places that continues to hold value, bucking the tide of a buyer's market.