Boats, Planes & Palm Cay
November 1, 2013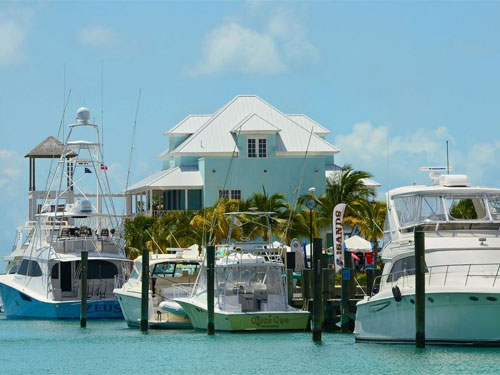 Once they were all about boats, their spares and parts, engines and stats, but today's big boat shows are much more — they've become giant retail fairgrounds for everything from multimillion dollar mansions to megayacht charters, from collector cars to exotic collectibles.
Amidst the art and haute cuisine being showcased at this year's Ft. Lauderdale International Boat Show is a nautical Nassau development, Palm Cay, with nearly 70 acres, pools, clubhouse, tennis courts and Nassau's largest small to mid-size marina. It will be the third year that Palm Cay will attend the show and its reasons are classic textbook marketing.
"Focusing energy on the Ft. Lauderdale Boat Show is a natural strategy for us because Palm Cay was designed with those who love the water and boating in mind," said Palm Cay Director of Sales and Marketing Zachary 'Zack' Bonczek. "One of our offerings, for instance, is the 2,000 square foot, 3 bedroom, 3.5 bath, Starfish Isle townhome with travertine tile on the main floor, wood floors on the second level, s/s appliances and large beachfront terraces and balconies. You're on 1,200 feet of beachfront right at your front door with a 194-slip marina within walking distance in a tax-friendly environment with year-round warm weather and friendly people. That makes for a pretty enticing package."
Scheduled for October 31-November 4, this year's show will take place over a sprawling three million square feet in Broward County with water taxis, shuttles and buses trekking show-goers between three venues. To stand out among the crowd, Palm Cay plans a unique boat show photo opp — its representatives will meander through the crowd bearing inviting attendees to jump in for a quick pic saying "I love Palm Cay" with a Palm Cay coozie which they can take home as a show souvenir.
Bonczek noted that other marinas will be represented and that boat shows have been magnets for sales opportunities, citing one Bahamian firm that sent a representative to last month's Monaco boat show.
"We don't mind the competition at all," he said. "In fact, the more Bahamian marinas and real estate developments, the better. It all brings more attention to The Bahamas and we believe that with eyes on our islands, we have the best mid-priced, active lifestyle for boaters in New Providence and possibly the best in the country."
This summer, the development on Nassau's southeastern shore announced its first condominium offering. Weeks later, it revealed it had 15 reservations for the first 12 units, prompting it to consider accelerating Phase 2 of what will eventually be a 50-unit condo community called The Anchorage. More than half its single family lots have been sold and it expects to announce yet another offering within the month. A full build-out of the secure community with 300+ single family home sites, a variety of townhomes, condos and numerous amenities is on schedule for 2017. To date, it has met or exceeded all targets for its five-year plan.
Diane Phillips and Associate