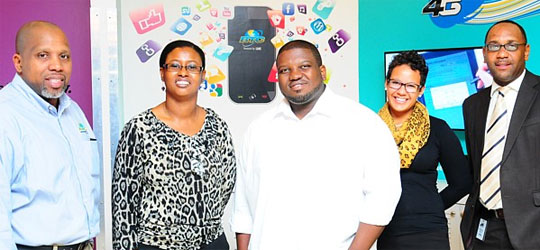 In 2008, long before the majority of corporate Bahamas dipped a proverbial toe into the Social Media Marketing (SMM) pool, The Bahamas Telecommunications Company (BTC) had a busy Facebook page and was among the first of the larger local companies to engage a full time Social Media coordinator who daily, directly interfaced with customers and used online analytics to monitor public sentiment on BTC's products and services.
Today, it is more than likely that BTC has captured and holds, leadership in The Bahamas' Social Media space as at mid October it surpassed ninety-thousand Facebook fans, topped ten thousand Twitter subscribers, racked-up an expanding profile on Instagram, saw more hits on YouTube, moved into FourSquare, expanded their reach and interest in Google+ and LinkedIn and beefed up its popular informative Tech Blog.
The company reasons that on a per-capita basis the company has one of the largest Facebook followings in the world, with an estimated one in three adult Bahamians following BTC on its Facebook Page.  On Twitter, although not the national leader, the company's @BTC242 handle is among the most followed nationwide.  Moreover, BTC is one of the first Bahamian companies to launch a Help line on Twitter.  The @BTCHelp twitter feed provides direct feedback to customers from 9 am to 9 pm every day on any BTC question or issue.
Marlon Johnson, BTCs Senior Vice President of marketing and communications was an early advocate of using the digital telecom age for digital marketing.
"I recognized early on that print marketing would no longer be enough for us once I saw the societal impact of Facebook on a particular segment of our target market," said the VP. "I realised the internet provided a new marketing tool that we could fashion to reach specific demographics and I embraced the idea that we could now utilize a very different and versatile marketing vehicle across a broader spectrum of communication platforms."
"It was exciting for me as I believe that the basic human need to discover and share information of any kind is in our DNA, and instigating and meeting this need is exactly what drives successful internet sites, weather purely social, business-based or a blend of the two.  Our SM team hones messaging and promotions across many SM platforms to directly inspire fans and subscribers to log onto our sites to check out friends, the daily prize winning puzzles and games, chat topics, events and promotions.  We also have a strong and dedicated Customer Care team, who we hired directly off our BTC Facebook page, answering and solving queries as they come in – instant, live help across many platforms. Our intensive Social Media Marketing is working for us and the feedback we get makes us all very proud of the online communities BTC has helped develop and serves."
"We have recently had the opportunity to attend a worldwide conference on Social Media in Orange County, California where some of the world's leading brands presented.  Brands well known to us like Addidas, Pepsi and Taco Bell.  We were impressed to see that we were pretty much in step with world-wide best practices.  And we were able to take away some important learnings that we are now incorporating into our Social Media platforms".
Senior Associate, Cara Douglas has been managing BTC's Social Media Marketing for a year and has by all accounts expanded the reach and uptake of the company's SMM footprint.
"BTC's Social Media team is charged with developing, engaging and involving our online communities in BTC activities,  products and services," explained Ms. Douglas.
"I like to reach and meet people where they feel comfortable engaging, weather Facebook, Google+ or one of the other sites where we have daily activity.  We have a weekly schedule highlighting major events, upcoming campaigns, and on-going service prompts currently focusing on Facebook primarily, with secondary focus on Twitter,  YouTube,  FourSquare, LinkedIn, Tech Blog and Instagram. We encourage the use of the latest SM platforms by publicizing our weekly challenges and spot promotions across all of our activity sites.
"The goal is to have an engaged and participatory online community, and to do it successfully we set specific functions for each platform,  an example being our Tech Blog and the LinkedIn company page. This ensures a customized experience that fits the sites profile and its BTC customer visitors."
Ms. Douglas said that her team strives for public awareness and to give customer care and engagement around products, services  and events; also to nurture the development of a caring and engaged profile for the company across all the BTC sites and to encourage people to discuss any concerns and also to praise BTC when due.
Working with Ms. Douglas are three BTC Facebook fans who were hired right off the site as a direct result of BTC's Social Media Marketing. Michael Armogan, Melissa Miller and Maurissa Davis make up the BTC Customer Care team and primarily manage queries and help requests.
"We manage customer queries on our Facebook page and Twitter, via emails, and call backs.     For Twitter, we monitor both @btc242 and @btchelp for queries and assist customers via replies or direct messaging.   Queries range from questions about prices to troubleshooting devices, explaining our network/data packages, providing billing information, etc," explained Michael Armogan. "Most of what is handled in store for Customer Service can be done online as well."
Although primarily engaged in customer service, the three also post product information and fun trivia on the various BTC SM sites and host contests, mostly recently on Twitter, Foursquare and Instagram where prizes included an iPhone 4S and 5.
"When we need to handle complaints," said Michael, "we often find that problems resolved via the BTC SM sites end up with the customer visiting our sites again because they like the activities. It's not rare to see a commendation by a customer for our online help team or an in-store agent noting that we went above and beyond for a customer."
BTC Facebook fan Marva Mackey first visited the site 3 years ago to try to win a contest for a new cell phone and a bundle of free minutes.  She is now a regular, checking the site often to keep up with BTC news and promotions and to chat with new found friends.
"This is a very good site on many levels," said Marva. "It is informative and helpful as well as fun and it makes me feel that BTC cares about its customers and is working hard to be a community member and not just a faceless corporate entity."  Her views are shared by Facebook friends Alfredo Smith and Deah Cornish who visit the site a few times a day for the trivia and games and surprises.  Deah in particular has many online friends met whilst playing the BTC trivia games.
"Some I've even met in person," she says.  Alfredo Smith says he likes to keep up with the chat and also BTC news on new products and services. "I usually visit about three times a day and comment on the challenges.  I enjoy the site; I think it is a good example of what a company can do to create a relationship with its customers."
Bjorn Burrows also visits the page a couple of times a day after joining in December 2009.  He likes the sales and company information, the trivia games and relational status updates.
"I keep coming back because of the innovation. In my opinion, BTC has taken the aspect of social media and used it to the company's and the public's advantage.   I think BTCs commitment to this medium and its impact on the information sharing culture is nothing short of phenomenal.   One of the things that impressed me early on was the company's willingness to face and often respond to the sometimes harsh public criticism.  And also their ban on cussing! I remember in the early days every other day someone would be banned because of cussing.    So the interaction changed for the better with more constructive comments; people still vent of course and say all kinds of stuff, but they don't cuss.  I admire BTC for that."
The Bahamas Telecommunications Company (BTC) is the leading telecoms operator in The Bahamas. BTC is jointly owned by Cable & Wireless Communications (51%) and the Government of The Bahamas (49%). Cable & Wireless Communications has both management and Board control.
Serena Williams
Caption: Celebrating the 90,000 'like' milestone for the BTC Facebook fan page. Marlon Johnson BTC SVP Brands & Communications; Marva Mackey and Bjorn Burrows, early and loyal BTC Facebook fans; Cara Douglas BTC Senior Associate Social Media; Jerome Sawyer BTC Senior Manager Public Relations. Photo by MoVi