Dupuch Presents Publications To American Cultural Society
November 18, 2013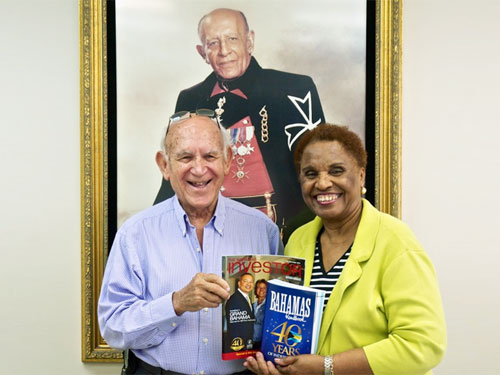 Leading publisher Etienne Dupuch Jr presented Beryl Edgecombe, president and co-founder of the New York-based Bahamian American Cultural Society Inc, with a compendium of past and present copies of the company's books and magazines on Thursday.
Etienne Dupuch Jr Publications is the largest magazine and book publishing company in the country.
The company produces the majority of Nassau's tourism centered publication: the Bahamas Handbook; Welcome hardback books circulated in hotel rooms throughout Nassau, Paradise Island and Grand Bahama; The Bahamas Investor, the What to Do magazines for Nassau and Freeport; the Dining & Entertainment Guide for both cities; and the handy Bahamas Trailblazer Maps.
Ms Edgecombe paid a courtesy call to the publishing house this week before heading back to New York.
She was in town to coordinate the first National Book Fair, co-sponsored by her organization in conjunction with the Ministry of Education.
Photo by Harry Cutting, Dupuch Publications
Submitted by Tosheena Robinson-Blair
Dupuch Publications Ltd