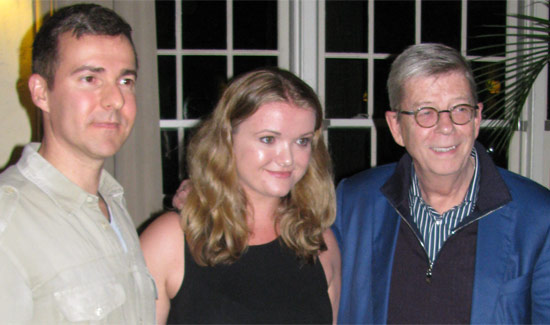 Joining forces for a good cause, the second annual Salt Cay Writers Retreat partnered with the Inner Wheel Club of East Nassau, Dolphin Encounters, The Rotary Club of East Nassau, Coldwell Banker Lightbourn Realty and The Old Fort Bay Club to present an evening of readings by three New York Times and international bestselling authors. Held recently at the Old Fort Bay Club, the event – aptly titled "A Novel Evening" – benefited local adult literacy program Project Read.
Project Read is a non-profit program founded by the Rotary Club of East Nassau in 1991. The organization offers free, one-on-one literacy tutoring to adults and teenagers in a confidential environment, at Project Read's headquarters on Village Road.
The Salt Cay Writers Retreat is an intensive writing course held on Salt Cay – more commonly known as Blue Lagoon Island. Dedicated to helping promising writers develop their narrative voices, the Salt Cay Writers Retreat also offers the chance for wordsmiths to rub elbows with some of the most respected names in the industry and have their works read by literary royalty.
Paying it forward, three of the retreat's critically-acclaimed faculty members read selections from their newest or bestselling works. Approximately 100 literary enthusiasts turned up to support the cause and hear selections read by David Ebershoff, who is known for his bestselling murder mystery, "The 19th Wife"; Robert Goolrick, who is known for his memoir "The End of the World as We Know It" among other works, and Téa Obreht, National Book Award finalist and winner of the prestigious Orange Award for her debut novel, "The Tiger's Wife".
"I'm feeling great," said Obreht on the evening. "The venue is just one of the most spectacular things I've ever seen, and reading with David and Robert was wonderful, and it's also for a great cause. Promoting literacy is fantastic, always."
Commending the setting and the inviting atmosphere, Ebershoff also noted that the zealous audience was one of the evening's highlights.
"The setting was so special and the audience was really engaged, and I felt really fortunate to be a part of it and also to have an opportunity to raise money for Project Read," he said.
The event was doubly special for Goolrick, who gave the first ever public reading of his not-yet-released novel, "The Fall of Princes". With copies set to hit bookstores in 2015, Goolrick tantalized attendees with an excerpt from his newest work.
"I had many people ask when the new novel is coming out," he said. "A lot of people seemed to like it, which pleased me because it was the first time I had ever read from that book in public, so it was sort of a world premiere."
To find out more about the authors, their works or the Salt Cay Writers Retreat, visit www.saltcaywritersretreat.com.
Kelly Meister
Photo Captions: (L-R) Bestselling authors David Ebershoff, Tea Obreht and Robert Goolrick at the A Novel Evening event held at The Old Fort Bay Club to benefit Project Read.