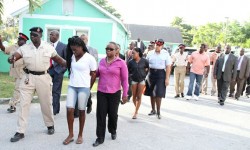 Two men and two women were charged in magistrates court Wednesday for the murder of Kurt McCartney.
Thorne Edwards, 23 and Okell Farrington, 31 of Pinewood Gardens; Lyndera Curry, 20, and Sumya Ingraham, 26, of Plantol Street,  were accused of intentionally and unlawfully together causing the death of Richard Kurt McCartney.
Terry Delancy, 42, the owner of Virgo Car Rental, was charged with accessory after the fact. He pleaded not guilty.
McCartney, brother of DNA leader Bran, was shot to death in Gambier Village on October 24.