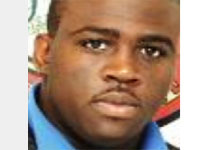 Nicholls Town, North Andros — For six years he's been a real life hero, saving lives, catching bad guys and keeping law and order – all in a day's work.
But, for Owen Hanna, while he's working his dream job as a police officer, it's not enough.
The 24-year-old crime fighter, who is stationed at the Nicholls Town Police Station in North Andros, dreams of obtaining a Governor General's Youth Award (GGYA) medal.
While he wouldn't exactly qualify as a youth – Hanna is approaching the GGYA's age limit of 25 – still, that has not deterred him from becoming involved in the self-development programme.
GGYA participants take part in hiking expeditions, community service, a physical activity and develop a skill. Depending on the time invested in the programme, participants can earn Bronze, Silver or Gold Awards.
"During my time in high school, I wasn't aware of GGYA. After reviewing a participant's application form, I noticed the age ranged from 14 to 25. Being 24, I was eager and more excited to be a part of GGYA. I also wanted to further my development," said Hanna, who now serves as a GGYA unit leader.
"After telling people I was going to join GGYA I got positive feedback. I don't think there are many people who would have, at this age, gone for the Bronze. The GGYA welcomed me with open arms. They were eager to receive me and teach me what they know. But, you know what, it's never too late."
Even though he doesn't have his Bronze yet, Hanna has already set his sights on a Silver Award.
But, he knows that his age will pose a problem.
He's now hoping GGYA officials will subscribe to the theory that "age ain't nothing but a number" and allow him to continue on in the programme.
"I've done so much in my life, but there's still so much to do and honestly, I'd really like to go all the way to the Gold," he said. "I'm hoping GGYA will make an exception and allow me to pursue the Silver and Gold. That would be a dream come true."
Hanna, who trained extensively to become a police officer, said the GGYA expeditions would be "a piece of cake."
"I'm prepared for anything; I'm not afraid of challenges. I'm willing to overcome any challenge if it will be beneficial in the end. Being a police officer I have already been through rigorous training. On numerous occasions I go on hikes. So, right now, I'm excited to hike," he said.
Besides eventually earning a law degree, Hanna says he has a passion for helping the nation's youths and wants to "save the lives of some of these young men."
He also wants others to know it's not too late to join GGYA.
"When I looked at the programme itself, it has an excellent structure to develop, shape and mold any young person's character and to steer them in the right direction. That's my goal. Now that I know I have a chance, I want to let people who feel that once they come out of school they can't join this programme, that they can and they should go for it," he said.
Nearly 1,700 participants from throughout the country are in the GGYA.
Units are located on Abaco, Acklins, Andros, Bimini, the Berry Islands, Crooked Island, Eleuthera, Exuma, Long Island and Grand Bahama.
This year alone, the GGYA has presented over 400 Awards to various youths.
By Precision Media