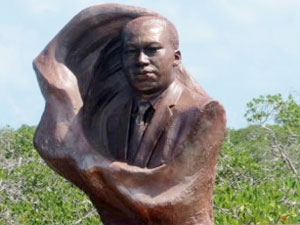 The United States Embassy in Nassau, The Bahamas, is pleased to announce the launch of the 8th annual Dr. Martin Luther King, Jr. Essay contest. The purpose of the contest is to encourage students to explore the life of Dr. King and the impact of the civil rights movement. All high school students in The Bahamas in grades 10-12 are invited to participate in the contest.
This year's theme is "Dr. King became the youngest person ever to receive a Nobel Peace Prize in October 1964. He received the award for leading a non-violent resistance to racial prejudice. What does it mean to you to be a champion for social justice, human rights and/or equality? Identify and discuss a Bahamian who has been a champion in his/her community. What lessons have you learned from him/her to influence your role as a change agent in your community?"
Students are asked to articulate the similarities between the American and Bahamian human rights and social justice movements through an essay of 500 words or less.
The essay is due February 3rd, 2014.
All essays must be 500 words or less.  The document must have 1 inch margins, use 12-point Times New Roman font and be double spaced.  Entry form and essay must be submitted electronically to NassauPublicAffairs@state.gov as an email attachment no later than February 3, 2014 at 5:00 PM.
Winners will receive the grand-prize of a new Apple iPad or iPad mini.  Winners will be announced at the end of February to correspond with Black History Month.
US Embassy, Nassau
Download Entry Form  (127KB PDF)