Operation Potcake Will Happen
December 5, 2013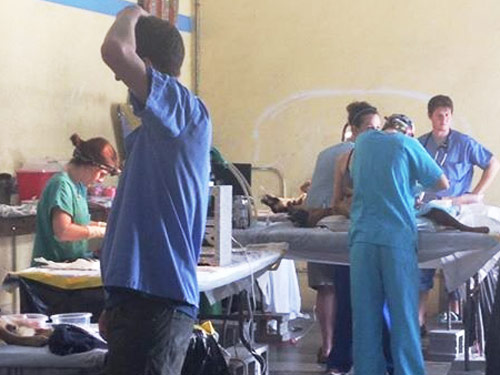 After a meeting between local organisers and representatives of the Veterinary Medical Association of the Bahamas (VMAB) it was announced that Operation Potcake will move forward as originally planned… and even more foreign vets will be participating. This increase in international vets was suggested by the VMAB despite their original objections about allowing the foreign vets in at all.
The Operation Potcake Steering Committee was also formed and in future will consist of the four members of the VMAB executive committee, President of the Bahamas Humane Society, President of Baark! and two animal welfare representatives.
A statement released by Operation Potcake read: "This heralds a new chapter of communication and co-operation between the animal welfare organizations, veterinarians and all animal lovers. We look forward to many successful spay and neuter clinics that will resolve the problems of stray dogs and cats in the entire archipelago of The Bahamas."
The dates for Operation Potcake 2014 have been confirmed!
Sunday, February 2nd to Thursday, February 6th, 2014. We will have 4 clinics to cover the most densely populated potcake areas, Carmichael Rd, Kemp Rd, East Street and a dedicated cat clinic at the BHS
If you are interested in volunteering please email Linda at potcake2013@gmail.com giving your name, what you'd like to be doing (collection, recovery, sterilization, vet etc) and if you are local or foreign to Bahamas.
Planning meeting dates for OP 2014 ~ Mark your calendars!
All are on Thursdays, all at 6 p.m. at the BHS.
December 19th
January 16th
Set-up day ~ Saturday, February 1st
Clinic days ~ Sunday, February 2nd – Thursday, February 6th
Clean-up day ~ Friday, February 7th
Visit: www.operationpotcake.com