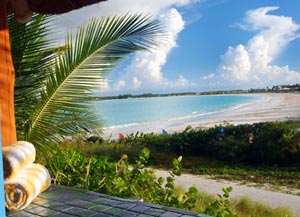 Grand Isle Resort & Spa is poised to become the hottest place to celebrate the Games outside of Sochi, with a number of high-profile guests arriving to help raise money for Canadian athletes.
Sochi Under the Sun, running from February 9th – 23rd, brings the excitement of the Games to Bahamian shores. In partnership with Canadian Athletes Now Fund (CAN Fund) and Commonwealth Games Canada, a host of decorated athletes will call Grand Isle home.
In addition, on February 11th, players from the National Hockey League (NHL) are expected to lead a spirited road hockey game for athletes on Farmer's Cay, a secluded island not far from the capital city of Georgetown.
Athletes include Simon Whitfield, Olympic Gold Medalist in Sydney (Triathlon), Katie Weatherston, Gold Medalist in Torino (Women's Hockey), Benoit Huot, multiple Gold Medalist in the Commonwealth and Paralympic Games (Swimming), John Morris, Gold Medalist in Vancouver (Curling), Rachelle Viinberg, Silver Medalist in London (Rowing), Desiree Scott, Bronze Medalist in London (Women's Soccer) and Beach Volleyball Olympians Conrad Leinemann from Sydney and Josh Binstock from London.
Sochi Under the Sun culminates in a special banquet for the athletes on February 22nd. Tickets for the dinner can be purchased for $80, with funds going to support Canadian athletes.
Philip "Brave" Davis, the Deputy Prime Minister of the Bahamas, is expected to be in attendance with other senior officials.
Grant Castle, Executive Director of the Grand Isle Resort & Spa, said that Sochi Under the Sun is an opportunity to showcase the property while also contributing to a meaningful cause.""Grand Isle is very pleased to play host to such a decorated group," he added. "We believe this event offers a unique experience and an opportunity to get up-close-and-personal with the athletes."
In collaboration with Commonwealth Games of Canada and CAN Fund, sponsors are invited to donate $10,000 and receive a 85% discount off a luxury villa, an "experience" with an Olympic athlete (such as a run with Whitfield, play beach volleyball against Binstock & Leinemann or a swim with Huot), and complimentary entrance into the "Gold Silver Bronze" Dinner on February 22nd. Donors are invited to stay for two weeks, one week, or even just a weekend.
All proceeds go directly to the CAN Fund and Commonwealth Games Canada and tax receipts are available.
Peter Nicholson, an owner at Grand Isle, has already sponsored three Canadian Olympic athletes who will be competing in Sochi through the CAN Fund: Cody Sorensen in bobsleigh, Ivanie Blondin in speed skating, and Haley Irwin in women's hockey.
"During the 17 days of the Games when the entire world is cheering and watching our athletes compete on the world stage, CAN Fund is getting a head start on supporting our athletes beyond Sochi. Events like Sochi Under The Sun make this possible," shared CAN Fund Founder, Jane Roos.
Brian MacPherson, CEO at Commonwealth Games Canada, said events like Sochi Under the Sun are much needed to support Canada's elite athletes.
"Commonwealth Games Canada is thrilled to support this venture, and we thank Grand Isle for showing support for our athletes," he said. "For many of Canada's athletes, the road to Olympic glory runs through the Commonwealth Games. With Sochi right around the corner and the Glasgow Commonwealth Games this summer, we encourage corporations and other potential sponsors to support the athletes, and also join us for a relaxing time in the Bahamas."