McDonald's Adds New Meaning to Happy Meal
January 7, 2014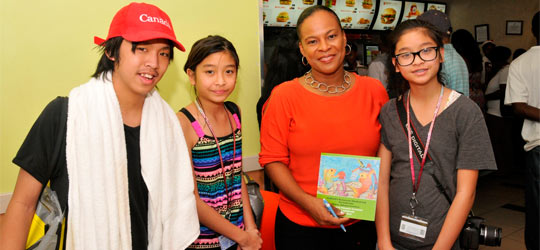 When McDonald's went upscale becoming the café of choice at Fashion Weeks in New York and Paris, the new McFancy was an instant hit.
Now, McDonald's Nassau may be steps ahead of those McFancys in fashion's high places. All three of New Providence's restaurants have been transformed with Bahamian art, thanks to the creation of vivid hand-painted wall tiles depicting uniquely Bahamian cultural icons — Junkanoo, local marine life and sports. The tiles, say McDonald's franchise holder DanBrad's President Earla Bethel, "bring colour and awareness of what makes us uniquely Bahamian."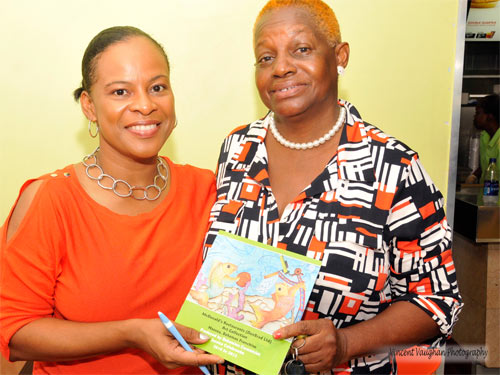 Jessica Colebrooke who created the tiles works on commission from long-time supporter McDonald's was at the downtown restaurant recently to meet customers who piled in for Big Macs and fries and got a nugget of culture with an autographed copy of the book of the tiling journey and the McDonald's connection.
"I have watched Jessica grow from a disciplined, determined college student into a passionate, purpose-driven artisan who not only promotes her work as a Bahamian but brings other artists along with her. In such a fierce and competitive environment her mindset is rare, admirable and to be applauded," said Mrs. Bethel. "Her work tells a story that is compelling and a joy to behold. The more intensely you look at her works of art, the more you see in it. Whatever Jessie creates comes alive – sea turtles so real you think they are swimming, Junkanooers so colourful, you sway to the beat of goat skin drums and cow bells and dance to the rhythm of the calypso music, athletes so engaged, you feel their winning spirit……which is synonymous with one of the world's most recognized brands, McDonald's."
According to Mrs. Bethel, choosing tile work and ceramic art to add a local touch and celebrate "Things Bahamian" was a natural.
"The walls of much of the restaurant were dated.  When we discussed giving our McDonald's a local touch and feel and doing it through art, the tile work / ceramic art presented a perfect opportunity," said Bethel.
For Colebrooke, the commission was pleasure – and challenge.
"I had to create multiple pieces for three locations," she explained. "It was a lot of hard work, but the exposure that I have received through this partnership with McDonald's has been great. The element of surprise for me was Bahamians viewing the work with that sense of pride that a fellow Bahamian created masterpieces for visitors and locals to enjoy. The tourists marvel at the fact that even though they were in a well-known international franchise, there was a distinctive feel of Bahamian authenticity through the art."
One of those Bahamians who felt a special sense of pride was Mary Louise Deveaux, Colebrooke's art teacher from C.I. Gibson who surprised her at the book signing on Bay Street.
"Words cannot express the pride I feel as I watch Jessica progress and become more and more accomplished in her art career. As a teacher it makes it all worth it if you get the chance to identify and nurture the passion and fire in a student," said Mrs. Deveaux, confiding it was Jessica who inspired her after the passing of her husband when as an artist herself, she could not summon motivation to create. "Jessica had recently returned from college and was the only person who was able to get me back into the art studio. It was a healing therapy for me."
Adding local art adds to McDonalds' appeal, takes taking a quick bite to a new level.
"Now kids can ask their parents to take them to McDonald's for art and business projects," said Colebrooke. "I hope it inspires others to believe that they can make a living through art if they believe in themselves and through what they produce or demonstrate, have someone who believes in them like I did. I will always be grateful to McDonald's."
Diane Phillips and Associates
Captions:
Top: Tourists Share in Bahamian Art at McDonalds: Tourists visiting on Carnival Cruise Lines were presented with an autographed copy of Bahamian artist Jessica Colebrooke's book of her work for McDonald's adding local artistic flavour to the home of the Big Macs and Happy Meals. (Photo by Vincent Vaughn Photography.)
Side: Proud Mentor: Mary Louise Deveaux (right) smiles with her former C.I. Gibson art student Jessica Colebrooke at an art event and book signing at McDonald's downtown Nassau recently. In an effort to add local flair and favour to the popular international franchise, McDonald's commissioned Colebrooke to create hand-painted wall tiles depicting Junkanoo, Bahamas marine life and sports. (Photo by Vincent Vaughn Photography.)