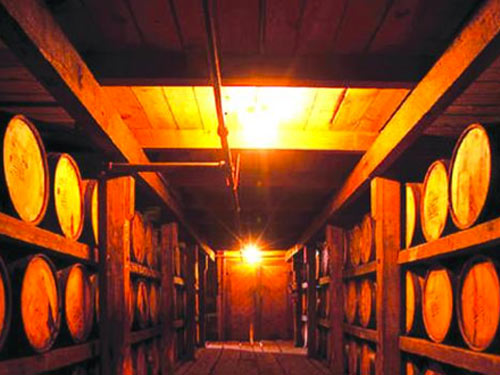 Grenada has its Caribbean Rum & Beer Festival, Barbados has its Food & Wine & Rum Festival, St. Lucia has a Food and Rum Festival, even Cuba has an International Rum Festival — and that's only a few countries in the Caribbean — rum festivals are held around the world and present a unique and exciting celebration of the fine art of distillation, maturing and the blending of fine cane spirits.
And it's this excitement that is finally coming to The Bahamas known as Festival Rum Bahamas — a festival of rum, food and culture — which will allow you to experience the spirits, food, history and "edutainment" of rum to create a social experience that evokes romance and adventure.
The inaugural Festival Rum Bahamas takes place February 21-23 at Fort Charlotte featuring rums from The Bahamas and the Caribbean — John Watlings (New Providence, The Bahamas); Fire in De Hole (Abaco, The Bahamas); Rhum J.M. (Jamaica); Afro Head Rum (Caribbean), Big Black Dick (Cayman Islands), Appleton Rum (Jamaica) Papa's Pilar (Caribbean) and Pirate's Choice (Caribbean).
Alexandra Maillis-Lynch, the visionary behind staging Rum Festival Bahamas says the event will be more than just a drink-up — but a festival to celebrate rum, food and culture.
"It will be a whole experience for people who love the excitement and exotic lifestyle of travel and adventure," she says. "It won't be just a tent and rum bottles everywhere and people getting drunk. It's about experiencing the drink … but more than that."
During the three-day festival, patrons will be afforded the opportunity to look at the country's culture and experiences through the eyes of rum, a libation that is an intricate part of Bahamian culture, going back as far as the Arawak Indians.
"We will have a great cultural experience with a lot of music and 'edutainment' as we're calling it, which is education with a fun twist … lectures on rum's place in black history, lectures on rum's place in white history; the history of rum."
Patrons can expect beautiful slide lectures from John Watlings and the Rum Council of Drinks, movies from the rum world that shows all the rumrunners and rum running.
Maillis-Lynch who refers to herself as the team leader for the Rum Festival (along with Juan Bethel and Catherine Chisnall-Mitchell and other key team members) said the festival will address the history of rum from every angle — it's culture, history and the experiences of Bahamians, and acknowledge it for its place in the country's history.
Each year's Festival Rum Bahamas will be themed. The theme for the first year will be "A Walk Through History." And as such, an integral part of the first festival will be a walk through history, acknowledging every aspect of it. As such an Antonius Roberts was commissioned to do a piece that will start the history lesson, beginning with the days of slavery. Patrons will then journey through the different eras and take a look at how rum played an integral part at each step along the way.
As they walk into the fort, they will walk past pieces depicting a chain gang of carved figures through the cane fields, before moving on to the pirate era, which of course is a bright and colorful part of Bahamian history. Patrons will then move on to the sugar cane fields where they will be able to witness the processing of the sugar cane from the beginning to end. John Watlings representatives will show the distillation of rum and how it's processed. The distilled rum will be placed in kegs that will be stored to be unkegged during the 2015 Festival Rum Bahamas.
"We're looking at our culture, our history and our experience as Bahamians through the eyes of rum because rum is such an intricate part of our beginning, and we're acknowledging it as a part of our history. A lot of people say who wants to remember that [history], but we have to remember everything that was a part of us. We're all here for a reason and there's both black history and white history tied up with rum," said Maillis-Lynch.
The southern side of the fort will play host to a street party in the Caribbean and is expected to be colorful and vibrant showing the melting pot that is the Caribbean.
In the upstairs portion of Fort Charlotte the theme will be about the rum and sea, showing how they were intricately tied to the sea. Rum tasting and the rum competition (which will be judged by five members from the International Rum Council, and five Bahamian judges) will be hosted in Fort Charlotte's dungeon.
Maillis-Lynch is also hoping to utilize Fort D'Arcy during the inaugural festival in which she would recreate the old Bahamian nightclubs like the Cat and The Fiddle and the King and Knights. (There are actually three forts at the fort known as Fort Charlotte, the eastern section is Fort Charlotte; the middle section is Fort Stanley, and the western section is Fort D'Arcy). If they are unable to do so for the inaugural festival, Maillis-Lynch said it would be on the cards for next year.
"We're brimming with ideas, and we know where this can grow," she said.
The first Festival Rum Bahamas will only offer 51 booths to vendors. The booths are being offered on a first come, first serve basis. According to Maillis-Lynch, the woman behind Events by Alexandara, a full-service event planning and catering company, with more than 20 years of experience in creating spectacular events, and who has earned an unmatched reputation for quality, passion and creativity says diversification will be the order of the day during the festival.
"I'm going for diversity and trying to ensure that we don't have too many of the same stands," said the mastermind who has a passion for the culinary arts. "I don't want to see just the ordinary food you would see everywhere. Now we're allowing that as well because we know people have to make their money, but everybody has to have one item at least that with rum, molasses or sugar cane."
Describing the inaugural event as small, Maillis-Lynch said they are keeping it that way intentionally so that they can work with each vendor to ensure that the theme and their ideas are executed. They are also offering cash prizes for the best booth and also for the best food item from the different chefs.
Maillis-Lynch, who has a propensity to help whenever and wherever she can, is of course adding a special charitable touch to the festival. They will set up a micro-business pavilion to which they will offer booth space to vendors who cannot afford a booth, or who can't risk the money, or only have one product that they want to display, but which ordinarily could not carry a three-day festival. The persons that are given the opportunity can display for a minimal amount of money — and they will be noticed, because they will be placed at the entrance which means all patrons will have to walk past them.
Admission into Festival Rum Bahamas inclusive of rum tasting will be $25 advance purchase, $30 on the day. A three-day pass is being offered at $60 in advance which Maillis-Lynch encourage people to buy.
"Festival Rum Bahamas will be more than a one-day experience. You won't have time to take it all in, on one day if you do it properly. If you went to every single lecture and every single experience, you wouldn't get to do it even in three days," she said.
Festival Rum Bahamas is an event that Maillis-Lynch has wanted to stage for years. The idea was sparked after she and her team helped to create an atmosphere in a certain venue. That spiraled out into the August Moon events known as Under the Caribbean Moon, then they hit on doing a rum thing and it grew from there as they looked around and realized how many other countries were hosting rum festivals and The Bahamas wasn't.
What: Festival Rum Bahamas
When: February 21-23
Where: Fort Charlotte
Tickets: $25 single day advance purchase, $30 on the day (inclusive of rum tasting), $60 in advance for a three-day pass.
For more information visit: www.rumbahamas.com
By Shavaughn Moss,
The Nassau Guardian
For more on Bahamas food and culture, visit our Food channel.