BTC 2014 Phone Book Celebrates Tourism's Golden Jubilee
February 10, 2014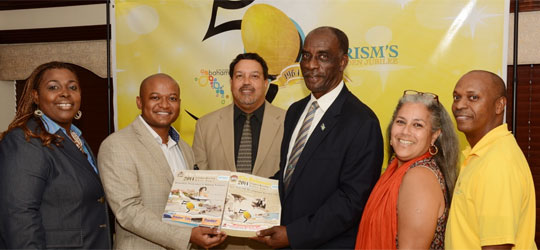 The new phone books are here and The Bahamas Telecommunications Company (BTC) has dedicated both White and Yellow pages' directory front covers on all editions, to Tourism's Golden Jubilee.  The front cover concept was conceived by Anthony Stuart, Ministry of Tourism General Manager and designed by Ministry of Tourism graphics department, making this the first year BTC has not designed or overseen the front cover artwork.
Both Directories feature a cover story on the Ministry of Tourism's Golden Jubilee.  More than just phone listings the directories are a veritable treasure trove of useful, interesting information and beautiful photography.
Talbot Collie of the Director of BTC publications said he was pleased to celebrate the 50th Anniversary of the Ministry of Tourism by featuring many of their accomplishments over the fifty years, on its suite of 2014 Directory covers.
"We commend the heroes who crafted such a bold vision that paved the way for accelerated national development, but above all we celebrate the spirit and passion of the Bahamian people who collectively deliver on the dream every day.  As part of that legacy of development, BTC is pleased to showcase the journey on the premier advertising medium in The Bahamas.
BTC Directory include the 2014 residential White and business Yellow Pages for New Providence, to include Grand Bahama, Abaco, Acklins, Andros, Berry Islands, Bimini, Cat Island, Eleuthera, Exuma, Inagua, Long Island, Mayaguana and San Salvador listings. The Grand Bahama directory contains both white and yellow page listings as does the dedicated Abaco directory. A mini-size directory also contains residential and business listings and its compact size makes it comfortably portable.
The Bahamas Telecommunications Company (BTC) is the leading telecoms operator in The Bahamas. BTC is jointly owned by Cable & Wireless Communications and the Government of The Bahamas. Cable & Wireless Communications has both management and Board control.
Serena Williams… Media & Public Relations
CAPTION        Group Photo, L-R as follows:
Ruthann Rolle Sr. Manager, MOT & Executive Chair Golden Jubilee Committee;  Gershan Major BTC VP Channels, Marketing;  Anthony Stuart GM MOT & Marketing, Public Relations Chair Golden Jubilee; Harrison Thompson MOT Permanent Secretary; Janet Johnson MOT Director Maritime Tourism & Consultant Golden Jubilee Committee;  Ambrose Fernander, MOT Sr. Manager Graphics Marketing & Graphics, Golden Jubilee.  Photo credit MoVi