China Making Inroads in The Bahamas with Baha Mar Mega-Resort
February 16, 2014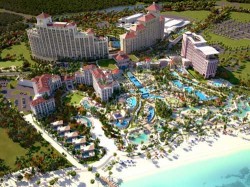 Cement mixers from China and construction equipment rumble next to a premier strip of white sandy beach as thousands of Chinese workers labor to complete a $3.5 billion resort project at famed Cable Beach.
Bahamian officials hope that the Baha Mar project — four new hotels, 200,000 square feet of convention space, an 18-hole Jack Nicklaus Signature Golf Course and a casino with a 50-foot glass water wall and a Vegas-style show lake — will transform Bahamian tourism, putting it on the map as a world-class gaming destination.
Baha Mar developers plan to have the mega-resort open by mid-December, just in time for the winter tourism season.
Baha Mar has amassed some of the world's most famous hospitality brands to operate its hotels. The centerpiece, the 1,000-room Baha Mar Casino & Hotel, will be managed by Global Gaming Asset Management, which has developed gambling resorts from Las Vegas to Manila.
There also will be a 750-room Grand Hyatt, a 300-room Mondrian Hotel and a 200-room Rosewood Hotel. The Spanish hotel operator Meliá recently took over operations of the Sheraton Nassau Beach Resort at Cable Beach and is running it as a Meliá hotel. When renovation of the 694-room property is completed, it too will become part of the Baha Mar brand, operating as the all-inclusive Meliá at Baha Mar.
But Baha Mar is also noteworthy because of the extensive Chinese involvement in the high-profile project. Not only is the Export-Import Bank of China providing the bulk of the financing, China State Construction Engineering Corp. is the general contractor.
"It's called transformation," says Robert Sands, a senior vice president for Baha Mar Ltd. Developer Sarkis Izmirlian, chairman and chief executive of Baha Mar, "didn't just want hotels on the beach; he wanted a destination," he said.
"A lot of focus will be on the gaming aspect," Sands said.
But the upscale resort, the largest tourism project under development in the Western Hemisphere, is something of a gamble.
Click here to read the complete article at www.miamiherald.com