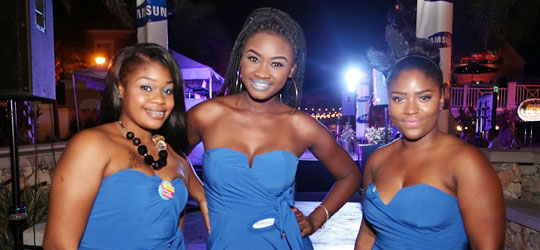 Bahamas Telecommunications Company (BTC) has launched 4G LTE (Long Term Evolution) on New Providence, Grand Bahama, Abaco and Eleuthera with other islands to be networked-in over the ensuing months. The cellular network super star officially went 'live' at a celebratory launch in Nassau's Pompey Square on Thursday evening February 13th.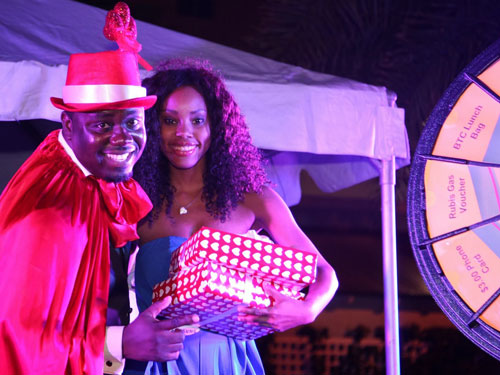 Government guest of honour, Dr. Bernard Nottage Minister of National Security gave the address. He related the history of the first cellular network in The Bahamas via BaTelCo and congratulated Geoff Houston and all the BTC staff on the momentous occasion of the new, faster 4G LTE mobile voice and data network.  He flipped a switch on an electric display panel to mark the official launch.
BTC CEO Geoff Houston spoke at the launch and said that from the very beginning, LTE had been a part of BTC's holistic communication plan and that North America's telephony and broadband standard was always their point of reference.
"Tonight, the switch over to 4G LTE marks an important milestone for BTC and The Bahamas. In planning for and building a new and enduring network, our reference point was always North America, and LTE has always been a part of our plans, so with 4G LTE going live tonight, The Bahamas is now up there with the best you can get in America.  Further, The Bahamas now has the biggest LTE network in the Caribbean region; it's absolutely the latest and greatest mobile communication network available.  We are even ahead of most parts of Europe – where LTE has just barely been rolled out."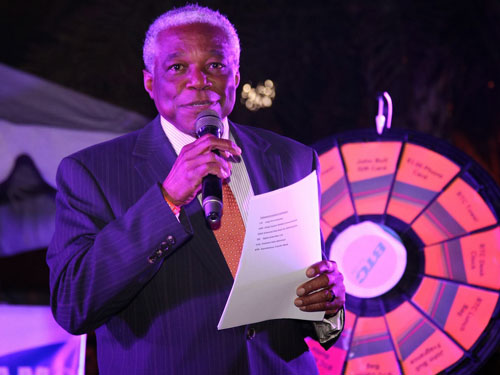 BTC has invested some $18 million expanding mobile capacity – including the investment in LTE – just this fiscal year and will invest millions more in the next 12 months as BTC continues to increase performance and capacity while connecting more of the Family Islands for nationwide 4G LTE coverage.
With the launch of 4G LTE, BTC is meeting the immediate and future needs of an increasingly mobile-active population demanding faster speeds, better performance, agility and practicality from their cellular provider. With the super- fast and versatile LTE, the leading telecoms provider is turning a mobile connected life into one that's faster and more flexible, exciting, more useful and ultimately, indispensable.
What is 4G LTE?
4G LTE is a standard for wireless-communication developed to increase the capacity and speed of wireless data networks and to manage future technology evolutions and needs.
LTE
technology is capable of delivering mobile Internet speeds up to five times faster than at present, which in this instance will allow BTC customer's to stream, download, upload and even employ mobile gameplay and sharing.  Download videos, documents, or songs in seconds, and enjoy video chat and live streaming of full-length movies.
And considered one of the best things about a 4G network is the Mobile Hotspot feature on most 4G smartphones that allows the sharing of your phone's 4G Internet connection with your PC or any other Wi-Fi enabled device, meaning super-fast connectivity for all your devices from just one 4G account.
BTC stores have a selection of 4G LTE devices that allow connection to a much wider array of devices and also enables higher-quality video and other new applications.  Many of these devices have a front-facing camera for video chat and apps like Skype and Google Hangouts to optimize the mobile chat experience.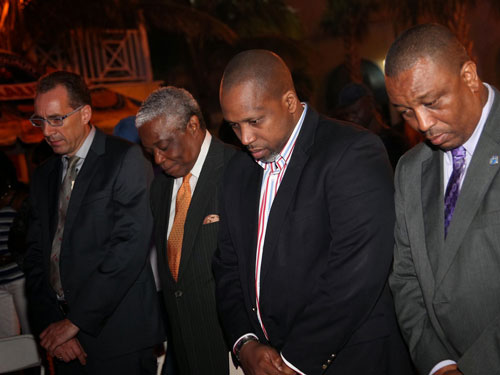 For those interested in making the most of the faster-speed mobile network, the 4G LTE phones available include: Samsung S4 LTE, Samsung Galaxy Note 3, and Nokia 920. Other LTE devices such as the Samsung S4 Mini will be added to the inventory as they become available. See them all on  www.btcbahamas.com/explore/products.
The Bahamas Telecommunications Company (BTC) is the leading telecoms operator in The Bahamas. BTC is jointly owned by Cable & Wireless Communications and the Government of The Bahamas. Cable & Wireless Communications has both management and Board control.
Captions in order from top to bottom:
Top: 3 of  BTC's Promotional Team members
Karaoke  King Demetrius and BTC Promotional team member organized the prize winning games
Bernard Nottage gives remarks
Bernard Nottage with BTC sr. VP Marlon Johnson with a new LTE cell phone
The Blessing – CEO Geoff Houston, Bernard Nottage, Sr. VP Marlon Johnson Sr.VP Carl Culmer