New Chinese Ambassador Visits Minister of Education, Science and Technology
February 13, 2014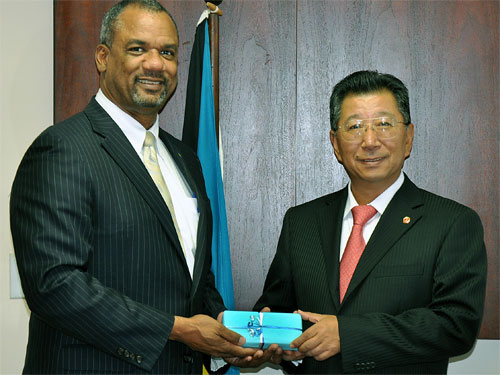 Jerome Fitzgerald, Minister of Education, Science and Technology recently received the new Ambassador of the People's Republic of China to The Bahamas, His Excellency Yuan Guisen in a courtesy call. Minister Fitzgerald welcomed Ambassador Guisen and staff members, Mr. Lin Xianjiang, Counsellor and Mr. Yang Guang, Attaché.
The Minister stated that close relations existed between The Bahamas and China under the former ambassador, His Excellency Hu Shan and expressed that he was looking forward for this to continue. He thanked His Excellency Guisen for the previous assistance given by way of technology equipment for schools and educational exchanges for teachers.
His Excellency Guisen stated that the governments of The Bahamas and China respect each other and enjoy mutually beneficial cooperation. He commended the Bahamian scholars and noted their success while attending university in China. He said that he is willing to offer assistance with strengthening facilities and training for students and teachers, especially in the area of special education.
Ministry of Education, Science and Technology
Caption: Ambassador of the People's Republic of China to The Bahamas, His Excellency Yuan Guisen (right) paid a courtesy call on Minister of Education, Science and Technology, Jerome Fitzgerald recently and discussed mutually beneficial programmes. (Photo by Aletha Cooper)