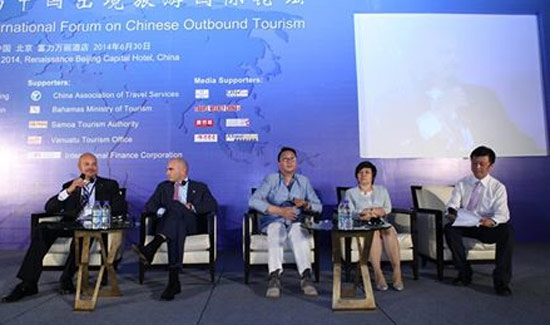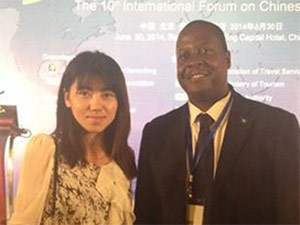 On June 30th, the annual trade summit of the Chinese outbound tourism market, IFCOT2014 was successfully held in Beijing. Co-organized by Ivy Alliance Tourism Consulting and China Association of Travel Services, and strongly supported the Bahamas Ministry of Tourism, Bahamaren , Bahamar ,World Bank Group/ and the International Finance Corporation, this year the forum attracted over 100 Chinese outbound tour operators, 53 media, delegations from over 20 countries, and a total of 300 participants.
Director General of The Bahamas Ministry of Tourism, Mr. Ellison Thompson, Ministry of Tourism Director for Asia Don Cornish, Vice President of Baha Mar China Greg Djerejian , and Bahamaren Asia General Manager Joanna Qiao  attended the forum and promoted  the Bahamas ' high-end/luxury vacation products to the Chinese travel trade.
Our company continues to include the Ministry of Tourism in our China Tourism Outbound Strategy to achieve our tourism potential in China. The Bahamas as a destination has much to offer over its regional competitors, drawing visitors internationally as well as domestically. This is why it is important for the Bahamas to continue to offer compelling tourism attractions such as Baha Mar for traditional markets internationally and domestically, as well as for new and emerging markets such as China and India.
As Bahamaren increase its efforts to create a new demand from China, the Bahamas must ensure it has  the productive capacity to meet it. As CEO , I believe that China Outbound Tourism will make a significant contribution to the Bahamian economy creating wealth and jobs for Bahamians.  Bahamaren will  continue to work closely with industry stakeholders and territory governments to expand the Bahamas tourism stand-alone status, capacity and functions by incorporating industry development, including supporting online distribution, promoting quality standards, and representing  the Bahamas' tourism brand in Asia.
We will continue with our strategic and coordinated leadership that will drive the China tourism agenda  .Bahamaren, has already made progress towards engaging Ministry of Tourism with a single and consistent voice that clearly articulates industry-wide priorities and provides evidence as the basis for action. Bahamaren through working in cooperation with government, tourism industry will be prepared to respond to challenges with effective and targeted strategies.
The Chinese travelers are becoming increasingly well informed about travel options and are demanding value for money from travel destinations. Its pivotal that the Bahamas continues with its provision of providing a high quality tourism products and experiences, coupled with delivering excellent customer service, to maintain and enhance the Bahamas tourism performance against international competitors. The future of our company's success in tourism in China will depend on ensuring the industry provides compelling and sustainable experiences to our targeted consumers.
Top caption: (Panelist Guests (L-R): Mr.Ellison Thompson, Deputy Director General, Bahamas Ministry Of Tourism; Mr.Gregory Djerejian, Vice Executive President, Baha Mar Ltd.; Mr. Guo Ming, COO of HH Travel; Ms. Zhang Hong, Board Director of CYTS FIT Travel Services)