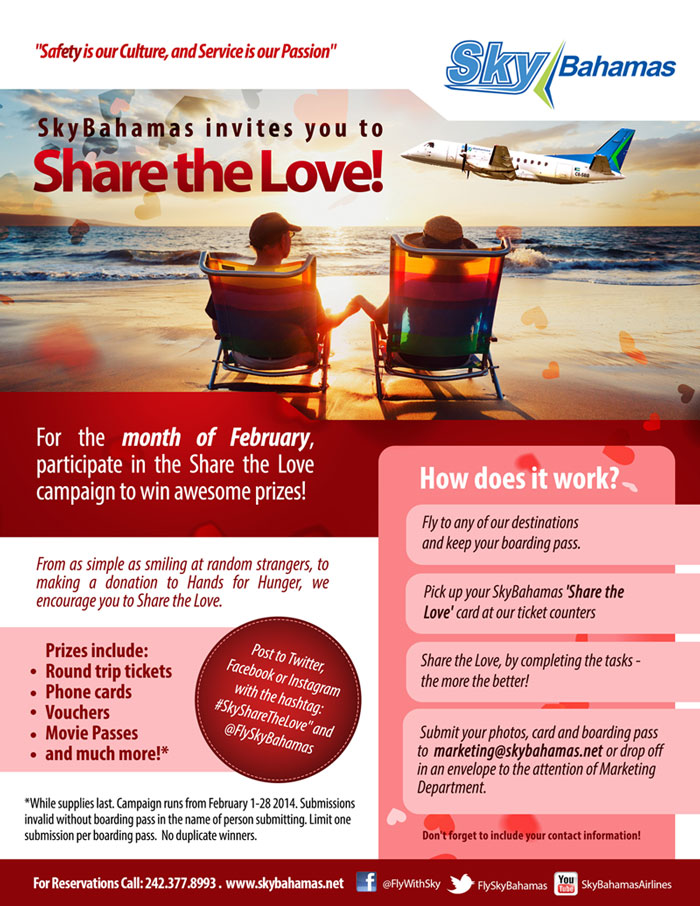 SkyBahamas has decided to put a new spin on the traditional theme of love, celebrated during the month of February. This month, customers are invited to participate in the "Share the Love Campaign", by performing random acts of kindness for persons in their community.
From buying a newspaper, to opening the door for a stranger, SkyBahamas wants to encourage everyone to 'Share the Love', and earn awesome prizes in the process. Participants must take photo or video evidence of themselves completing any of the 16 tasks on the 'Share the Love' card, and post online or submit via email. Online posts to social media such as Twitter, Facebook or Instagram must be accompanied with the hashtag: #SkyShareTheLove or tag @FlySkyBahamas. Email submissions can be made to marketing@skybahamas.net. Winners will be selected each week for the month of February, with a grand prize of 2 round trip tickets to be received at the end of the month.
"The team here at SkyBahamas constantly seeks new ways in which we can give back, and with our customers' assistance, we can make February the most loving month of all," stated guest services representative Kendriya Gaitor.
Participants can log onto facebook.com/FlyWithSky, call 702-2600 or email marketing@skybahamas.net for more details.