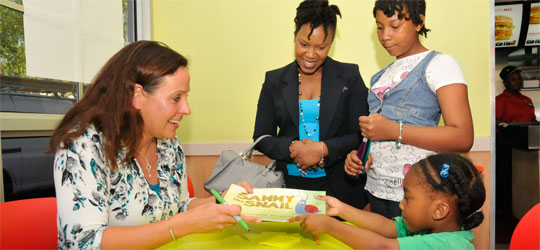 Sammy the Snail – a caricature created to teach children that it's better to express emotion than keep it stored inside — is crawling his way through Nassau and this week, his story won the hearts and smiles of children at McDonald's on Marlborough Street when author Allie MacPhail signed copies during the fast food restaurant's popular weekly McHappy Hour.
"This is definitely the rocking-est book signing I've ever done" MacPhail said as youngsters grabbed books like hard-fought prizes and fries like long-awaited treats. "I never knew a book-signing could feel so much like a party. This is great."
MacPhail, a family and marriage therapist at Caribbean Child Development, is starting a three month hop around McDonald's locations to promote her insightful story about a snail named Sammy who learns to rediscover happiness through camaraderie and friendship, sharing instead of storing feelings. The book takes an innovative approach to an ordinarily tough-to-teach topic for children, showing kids that expressing emotion can be as rewarding as unwrapping that Happy Meal toy. Noise-blowers, candy covered tables and the catchy Caplyso beat sounds of folk singer Derek Adams and his sidekick Charlie proved on this date there was nowhere else a kid wants to be after three, making Mickey D an ideal place to salute Sammy.
McDonald's president Earla Bethel said linking the family-oriented restaurant to Sammy's story was a natural fit.
"We were so taken by the moral of the story and its beautiful illustrations that we wanted to create an opportunity to make the book widely available," said Mrs. Bethel. The first 100 children took home a personally autographed copy, courtesy of McDonald's.
"I am most excited about getting the book into Bahamian kids' hands," explains MacPhail, handing over copies to anyone with a tot in tow, grandparents, parents and cousins alike. Mid-February brings a "meet the author tour", offered free to local schools and clubs with a literary focus. "Sammy the Snail" copies can be purchased at Logos, The Linen Shop, Doongalik Studio, Bahama Sol, Bahama Republic and various other locations around Nassau.
The book signing followed another cultural coup by McDonald's when all three New Providence restaurants unveiled walls of hand-painted tiles depicting Bahamian scenes designed and executed by tile artist Jessica Colebrooke, creating a distinctive look that set this country's McDonald's apart from all others.
Diane Phillips and Associates
CAPTION:
They're all lovin' it– One hundred children or the folks who took them to McHappy Hour at McDonald's in downtown Nassau this week got an extra treat – signed copies of "Sammy the Snail", the new book about the importance of expressing and sharing feelings by author and family and marriage therapist Allie MacPhail, above. McHappy Hours, a long tradition in New Providence, are becoming the place to be for surprising cultural experiences fit for many still learning their ABC's but getting a wider taste of a positive world. (Photo by Vincent Vaughn)